One of the largest and richest contests in Asia with prizes totalling more than US$40,000
Corel Corporation, a leading developer of graphics, productivity and digital media software, today announced the Corel Asia-Pacific Digital Art Competition 2011.  Now in its third year and with entries from over 11 countries in the 2010 Competition, the Corel Asia Pacific Digital Art Competition is one of the largest in Asia with prizes totaling over $40,000 USD. The competition runs from September 1, 2011 to December 31, 2011 and is open to entrants from the Asia Pacific region. Winners will be announced March 15, 2012.

The competition includes Open and Student categories and is open to entrants from Australia, New Zealand, China, Hong Kong, India, Indonesia, Japan, Korea, Malaysia, Philippines, Singapore, Taiwan, Thailand and Vietnam. Winning entries will be featured on the Corel Website.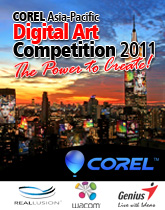 "I'm excited to announce our third Corel Asia-Pacific Digital Art Competition," said Juliet Kuo, Senior Director of Global Marketing at Corel.  Our annual Digital Art Competition is one way celebrate the tremendous talent and creativity in the Corel community in Asia Pacific.  Every year we see stunning works that inspire, challenge and push the envelope of what's possible and we are delighted to offer digital artists the amazing software such as CorelDRAW, Painter, VideoStudio and PaintShop Photo Pro.  We hope the Corel Asia-Pacific Digital Art Competition 2011 will encourage established and up-and-coming designers to tap into their creativity and reward us all with marvellous new work.
Entry Categories
Entries may be static images or videos and must be produced using Corel software.  Contest submissions will be posted on the Corel website during the period of the competition, where visitors will help determine the winners by voting.  Winners will be chosen based on popular vote and opinions from a distinguished panel of judges.
Prizes for Voting & Sharing
Visitors to the competition website can win a iPad2 and more prizes by voting for their favourite entries, forwarding information to their friends and by creating links to the competition on Websites and blogs.   Corel APAC Facebook fan page enables entrants to share information and promote their entries on social media networks.
Sponsors
The Corel Asia-Pacific Digital Art Competition 2011 is supported by leading brands including Genius, Reallusion and Wacom.
Competition Website
Full competition and entry details, artwork submissions, audience voting, announcement of the winners and their winning artwork can be found on http://www.corel.com/apac-contest.
About Corel
Corel is a leading developer of graphics, productivity and digital media software with more than 100 million users worldwide. The Company's product portfolio includes some of the world's most popular and widely recognized software brands including CorelDRAW® Graphics Suite, Corel® Paint Shop Pro®, Corel® Painter™, Corel DESIGNER®, Corel® WordPerfect® Office, WinZip®, WinDVD® and iGrafx®. Designed to help people become more productive and express their creative potential, Corel's software strives to set a higher standard for value with full-featured products that are easier to learn and use. The industry has responded with hundreds of awards recognizing Corel's leadership in software innovation, design and value.
Corel's products are sold in more than 75 countries through a well-established network of international resellers, retailers, original equipment manufacturers, online providers and Corel's global websites. The Company's headquarters are located in Ottawa, Canada with major offices in the United States, United Kingdom, Germany, Taiwan, China and Japan. Corel's stock is traded on the NASDAQ under the symbol CREL and on the TSX under the symbol CRE. www.corel.com