New PowerShot D20 adventure camera delivers Canon's true-to-life image quality and GPS in a 'tough' slimline package
Canon's new adventure camera matches shock, water, dust and freeze proof build with GPS tracking and quality enhancements for improved low-light and close-range macro photography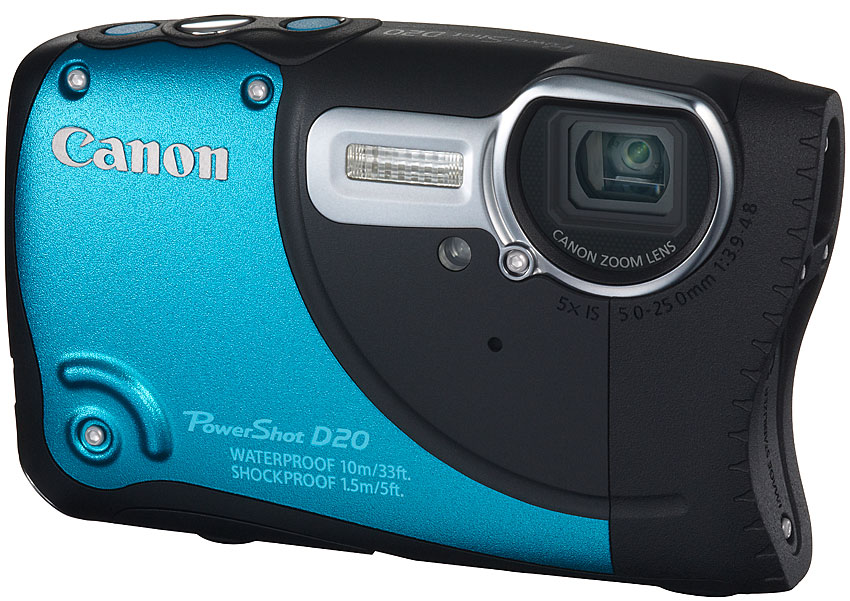 This looks to be a pretty good carry anywhere camera, especially with the GPS tracking.
Press release below:
Launched to meet the imaging needs of explorers, travellers and adventurers alike, Canon Australia has today announced the arrival of the PowerShot D20 – a tough-built camera designed to take on any shooting condition and cleverly trace image locations through GPS tracking technology. The PowerShot D20 is the perfect travel partner for adventures across all four corners of the globe!
Through integrated GPS technology, the PowerShot D20 allows travelling photographers to track and log activity on Google Maps, where images can be connected to the places they were taken, ensuring travel locations are never forgotten. Combined with the camera's 12.1MP High Sensitivity CMOS, full HD video recording and 5x optical zoom lens with Intelligent IS, the PowerShot D20 delivers improved low-light and close-range macro photography performance resulting in crystal clear images from the beach, under the water or in the snow!
"Whether the user's passion lies in skiing, sitting on the beach or scuba diving, the PowerShot D20 is the perfect camera for both action seekers and adventure travellers," says Kai Lebens, Brand Manager – Digital Still Cameras, Canon Australia. "Combining both technical smarts and slim lines,, the PowerShot D20 introduces a suite of features to ensure crisp, clear and true-to-life images of a great holiday or everyday moments….whatever the conditions!"
New and improved features of the PowerShot D20 include:
GPS technology: Perfect for those off on adventure and travelling the world, the PowerShot D20's GPS technology feature allows users to log and track their journey to later display with Google Maps.
Waterproof: The PowerShot D20's water-tight camera body* enables spectacular underwater photography up to a depth of up to ten metres with macro mode functionality. With Canon's WP-DC45 underwater casing, the PowerShot D20 is waterproof to a further 40 metres.
Freeze proof: Able to withstand temperatures as low as-10oC**, the PowerShot D20 is ideal for capturing fast-action snowboarding, cross country skiing or snowball fight moments.
Shockproof: Sturdy and shock proof, even when dropped from up to 1.5 metres*** – Perfect to stand up to the demands of travel and adventure sports
12.1 Megapixel High Sensitivity CMOS Sensor: Perfect for taking photos in low light, the sensor also allows for better noise reduction, making it ideal any indoor or outdoor situation.
Optical Zoom Wide-angle lens: The 5x Optical Zoom and 28mm wide-angle lens allows  users to get closer whilst capturing those unforgettable moments and beautiful landscapes.
Full High-Definition Movies: The PowerShot D20 delivers sharp, high quality full HD movies to capture moving footage of  action in the snow or ocean wildlife of the deep. Picture-perfect travel movies can be replayed directly to your HDTV with an optional HDMI terminal.
Intelligent IS: Intelligent IS is a unique Canon technology and features in the PowerShot D20. The camera will automatically choose the correct image stabilisation to use in different shooting situations
* Waterproof standard: Awarded the 1IEC/JIS Protection Class rating IP8X equivalent for waterproofing
** Freezeproof performance: Performance of the NB-6L battery pack may decrease at temperatures between – 10°C to 0°C
***Shockproof performance: Camera dropped using unique standards, based on MIL Standard 810F Method 516.5 Selecting Procedure IV
****Dustproof performance: Awarded the IEC/JIS IP Protection Rating IP6X equivalent
Availability
The PowerShot D20 digital compact camera will be available from June, 2012 (RRP TBC). For further details, visit the Canon website via: www.canon.com.au