Canon scoops six prestigious TIPA awards across digital camera, video and printer product categories
Highest-ever TIPA award tally acknowledges Canon's strength of innovation across the digital imaging categories
SYDNEY, 18 April, 2012: Canon has been awarded with six prestigious "Best Product 2012" awards by the highly respected Technical Image Press Association (TIPA), representing 29 photography and imaging magazines across 14 European countries. The six award-winning products are: the EF8-15mm f/4L Fisheye USM interchangeable lens, the EOS-1D X digital SLR camera, the EOS 5D Mark III digital SLR camera, the PowerShot G1 X compact digital camera, the EOS C300 digital cinema camera, and the PIXMA MG8250 inkjet printer.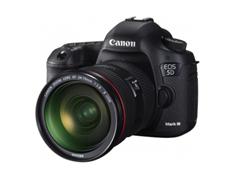 "2012 will be Canon Australia's biggest year yet with a once-in-a-decade product range and local market partnerships and initiatives to drive value for consumers. It is a proud and fitting achievement that in 2012 we have received our highest-ever number of TIPA awards in a single year," said Jason McLean, Director – Canon Consumer Imaging, Canon Australia. "The TIPA awards are highly sought after in our industry and illustrate the comprehensive strength of our diverse product line-up from capture to print and consumer to professional users."
"We are particularly pleased with TIPA's recognition of Canon's digital SLR cameras supporting high-quality video capture and the Cinema EOS System, which marked our full-fledged entry into the motion picture production industry, as these acknowledge our achievements in video-capture innovation."
Canon's TIPA Award details
Best Professional DSLR Lens in 2012 – The Canon EF8-15mm f/4L Fisheye USM, which can produce either full frame or circular fisheye images, was recognised for its 180-degree field of view offering "exceptional creative capture capabilities." Noted for its "exceptional optical design, quality and durability," the jury singled out the premium L-series lens's SWC (Subwavelength Structure Coating), which "reduces ghosting effects and flare," and fluorite coating for "easy cleaning of the large front element."
Best DSLR Professional in 2012 – Canon's top-of-the-line EOS-1D X combines the "creative advantages of a full-frame sensor with high-speed, high-sensitivity technology" in response to the needs of professional news, sports and wildlife photographers. Incorporating an approximately 18-megapixel CMOS sensor and dual DIGIC 5+ image processors, the pro-model camera offers a "well-balanced package of image quality and shooting speed." The TIPA jury members lauded the newly engineered 61-point AF system as "the fastest and most accurate ever," enabling the camera to "detect and track fast-moving subjects even in low-light conditions."
Best Video DSLR in 2012 – According to the TIPA jury, the EOS 5D Mark III further improves on the experience offered by the 5D Mark II, a camera that "changed the landscape of digital photography." Delivering both high-quality still images and video in a single camera, the 5D Mark III was praised for its newly designed 61-point AF system and "incredibly high ISO sensitivity," as well as such movie functions as manual exposure control.
Best Expert Compact Camera in 2012 – The PowerShot G1 X was lauded for its "DSLR-like image quality, but in a compact camera-style body with an excellent fixed zoom lens." Featuring a large 4:3 aspect ratio 14.3-megapixel CMOS sensor that is similar in size to the APS-C sensors used in EOS DSLR cameras, the G1 X "delivers superior image quality even when working in low light."
Best Professional Video Camera in 2012 – According to the TIPA panel, "Canon called upon expertise from diverse fields, including sensors, image processors and optics" to develop the "revolutionary" EOS C300. Part of the Cinema EOS System, the cinema camera comes in two versions: the EOS C300, with an EF mount for use with Canon's diverse line-up of interchangeable EF lenses and EF Cinema Lenses, and the EOS C300 PL, with a PL mount compatible with industry-standard PL lenses. Featuring "landmark video camera technology," the C300's high-resolution approximately 8.3-megapixel Super 35 mm-equivalent CMOS sensor was especially developed for the camera while both the EF- and PL-mount versions offer modular architecture for increased expandability.
Best Multifunction Photo Printer in 2012 – The Canon PIXMA MG8250 features a "sleek design and enhanced connectivity". In addition to featuring access to the new PIXMA Cloud Link and wireless printing from mobile devices for enhanced convenience, the inkjet printer delivers "photo lab quality [prints] at impressive speed." Lauded as a "very desirable tool for every photo enthusiast," the device realises a maximum resolution of 9,600 x 2,400 dots per inch with ink droplets as small as one picoliter while the six-ink system, which includes pigment-based and dye-based black inks, makes possible the output of a high-image-quality 10 x 15 cm photo in just 20 seconds.
About the TIPA Awards
Held every year since 1991, the TIPA European Photo & Imaging Awards have recognised the best photo imaging products announced in Europe during the previous 12 months based on such criteria as their innovativeness, technological power, design, and ease of use. In 1992, Canon took home its first TIPA accolade for the EOS 100 SLR camera and, over 20 separate occasions since then, has been honoured with TIPA awards for a total of 60 products.
About Canon
Canon is the world's leading imaging brand that actively inspires with imaginative ideas that enable people to connect, communicate and achieve more than they thought possible through imaging solutions for business and consumers. Canon's Australian R&D company, CiSRA, develops and exports digital imaging technologies for use in Canon products worldwide. Canon has ranked among the top-four US patent recipients* for the past 20 years, and had global revenues of around $US46 billion in 2011. Canon Australia also operates Canon Finance Australia, which offers one-stop shopping for customers wanting leasing or finance services. For more information, visit www.canon.com.au, www.facebook.com/canonaustralia, www.twitter.com/canonaustralia, www.youtube.com/canonaustralia
* Based on weekly patent counts issued by the United States Patent and Trademark Office