Canon EF8-15mm f/4L Fisheye USM lens honoured with Camera Grand Prix's 2012 'Lens of the Year Award'
Prestigious award adds to 2012 medal tally in 25th anniversary year of the Canon EOS SLR camera system
Sydney 15 May 2012: Canon Australia has today announced that the EF8-15mm f/4L Fisheye USM interchangeable lens has been honoured in Japan with the prestigious Camera Grand Prix 2012 "Lens of the Year Award." The accolade marks the second award to date for the Canon fisheye lens, which was also named "Best Professional DSLR Lens in 2012" in Europe by the Technical Image Press Association (TIPA).*1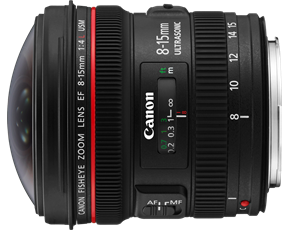 The Camera Grand Prix, considered the most sought-after camera and lens product awards in Japan, is organised by the Camera Journal Press Club,*2 comprising journalists from major domestic photography and camera magazines. Separated into four award categories, the 29th Camera Grand Prix honoured Canon's EF8-15mm f/4L Fisheye USM with the "Lens of the Year Award" based on a review of lens products introduced in the Japanese market during the past year.
"This latest award is a tremendous affirmation of Canon's leadership in optical technology and reinforces why Canon EOS is Australia's brand of choice for interchangeable lens cameras*4," said Rebecca Pearson, Assistant Brand Manager – EOS, Canon Australia. "The two awards received this year are formal industry recognition of the EF8-15mm f/4L Fisheye USM's innovative, extreme wide angle and fisheye performance, made possible by Canon's optical technologies."
25 years of Canon EOS
The Canon EOS camera system was introduced in March 1987 as a new generation of AF SLR cameras that incorporate the world's first electronic mount system, achieving complete electronic control not only between the lens and body but throughout the entire camera system. Since that time more than 50 million EOS cameras and 70 million EF lenses have been produced. Comprising more than 65 models, Canon's current EF lens line-up enables an infinite range of creative options to suit photographers from beginner level to professional.
Reason for selection*3
Delivering both 180-degree diagonal angle of view and 180-degree circular fisheye in a single zoom lens, Canon's EF8-15mm f/4L Fisheye USM enables a wide range of stunning imaging possibilities with unique and interesting perspectives. The lens was selected for this year's Camera Grand Prix award thanks to such factors as its 8-15mm focal length range, and its high-image-quality performance made possible by the incorporation of UD (ultra-low dispersion)-glass and high-precision glass-mould aspherical elements to correct for aberrations. The lens was also recognised for its Subwavelength Structure Coating (SWC), which minimises the occurrence of ghosting and flare; its compact design delivering enhanced portability; and a dust-proof, moisture-proof structure for reliable shooting even in harsh weather conditions.
*1             The Technical Image Press Association (TIPA), comprising 29 photography and imaging magazines across 14 European countries, awards products based on an annual vote
*2             Launched in September of 1963; currently comprises 11 affiliated magazines (as of April 2012)
*3             Based on announcement by the Camera Journal Press Club 2012 executive committee
*4             50% value share of the total interchangeable lens camera market in 2011. Source: GfK Retail Tracking – Interchangeable Lens Jan – Dec 2011 (excludes Internet/Online Sales)
About Canon:
Canon is the world's leading imaging brand that actively inspires with imaginative ideas that enable people to connect, communicate and achieve more than they thought possible through imaging solutions for business and consumers. Canon's Australian R&D company, CiSRA, develops and exports digital imaging technologies for use in Canon products worldwide. Canon has ranked among the top-four US patent recipients* for the past 20 years, and had global revenues of around $US46 billion in 2011. Canon Australia also operates Canon Finance Australia, which offers one-stop shopping for customers wanting leasing or finance services. For more information, visit www.canon.com.au, www.facebook.com/canonaustralia, www.twitter.com/canonaustralia, www.youtube.com/canonaustralia
* Based on weekly patent counts issued by the United States Patent and Trademark Office