Excellent Designs Exhibition at MOOD: Museum of Outstanding Design In Como, Italy
Worlds' top designs in 2011-2012; the 259 carefully selected and filtered entries within 3653 projects were exhibited at the Museum of Outstanding Designs' 2012 location: Broletto di Como, Italy.
Como, Italy (PRWEB) June 26, 2012
Worlds' Best Designs in 2011-2012 Exhibited at MOOD: Museum of Outstanding Design: Worlds' top designs in 2011-2012; the 259 carefully selected and filtered entries within 3653 projects were exhibited at the Museum of Outstanding Designs' 2012 location: Broletto di Como, Italy.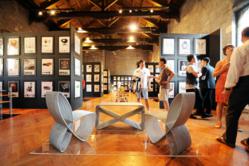 Highly curated, and organized according the to the different spheres of design such as fashion, jewelry, automobiles, yachts, interior projects, architectural works, art pieces and other industrial design categories, the exhibition features both poster and hardcopy versions of the works submitted throughout the world for the A' Design Award & Competition.
Guests are able to obtain contact details and business cards of winners and further information regarding the works from the support desk, and special QR codes are embedded to each of the large posters to get further interactive information such as websites, videos and interviews regarding the exhibited designs.
The exhibition is organized together with the A' Design Award & Competition, which awards best designs in 40 distinct design fields ranging from architecture to arts and design. Unlike other design awards, which require winners to pay for exhibition possibilities, winners' of the A' Design Award & Competition are exhibited free of charge at the exhibition as a courtesy of their winning entry, and to celebrate their award once more, which adds further prestige to the event.
The exhibition helps to cultivate the design culture further in Como, and is an added color to already flamboyant design life in Italy. Invited guests, business people, press and the tourists enjoyed the exhibition which is accessible easily from at the heart of Como at Broletto di Como.
The Broletto di Como, located near the Duomo of Como, is a mediaeval building erected in 1215 to initially house the Municipality of the city of Como. Built with Romanesque-Gothic and Renaissance elements, and renovated throughout the centuries, Broletto is used for exhibitions of best pieces of art, architecture and design; an equally prestigious location that matches the exhibited works.
Museum of Outstanding Design Location 2012 Broletto di Como is at Piazza del Duomo, Como / Italy. Opening hours of the Museum of Outstanding Design: The exhibition is open every day; from 09:00 am to 19.00 pm daily, including weekends and public holidays during the exhibition period: from 15th June 2012 to 1st July 2012. Entrance fees: Admission to the exhibition is free i.e. costs are covered by the A' Design Award & Exhibition for all guests.
Those who will not be able to visit the exhibition could check the exhibition photos to see participating works and some of the winners here: http://www.adesignaward.com/gallery-expand.php?t=2&y=2011 furthermore, an online version of the exhibition is available at http://www.designmag.org where design enthusiasts could reach more details about the winning projects.
About A' Design Award and Competition
The A' Design Award & Competition is an annual international design award and competition aiming to highlight design oriented products, services and offerings. A'Design Award and Competitions aims to highlight the excellent qualifications of best designs, design concepts and design oriented products by presenting its winners with publication and advertising opportunities. Further information regarding the award can be accessed fromhttp://www.whatisadesignaward.com