Canon's renowned mid-range DSLR takes performance higher with enhanced shooting, ease-of-use and support for additional EOS accessories.Canon Australia has today announced an exciting new firmware upgrade for the popular EOS 7D digital SLR camera. Available for download from the Canon Australia website*1 from 7 August 2012, firmware Version 2.0.0 introduces a number of enhancements that will allow photographers and videographers to get more out of their camera.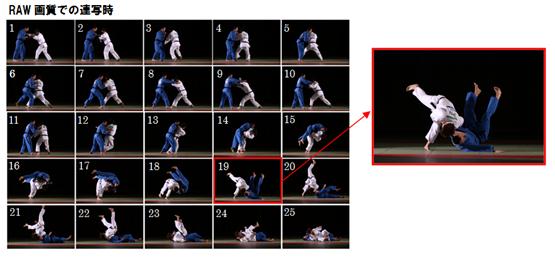 "The EOS 7D has established itself as the camera of choice for mid-range DSLR photographers who want the best in quality and performance in the APS-C segment," said Rebecca Pearson, Assistant Brand Manager – EOS, Canon Australia. "Representing a major upgrade to the camera, the firmware update improves shooting performance, offers additional onboard features, and allows the camera to be used with our new GPS receiver."
After installing the update, photographers using UDMA CF cards will notice a significant improvement in continuous shooting, with the ability to capture a burst of 25 RAW images at 8.0 frames per second (maximum burst of 15 images previously).  For those who want to be able to tag their images with geo-positional data, the update also provides compatibility with the Canon GP-E2 GPS receiver.
However, it is the remaining feature upgrades that will be most welcomed by seasoned users of the Canon EOS 7D. "In releasing the firmware now, we've taken the opportunity to provide a number of feature enhancements that respond directly to feedback we have received from the photographic community," continues Pearson. "Still shooters will enjoy the extra freedom afforded by the ISO Auto range maximum setting, in-camera RAW processing, and the ability to scroll around a magnified image with greater speed. And videographers will really appreciate the ability to set their audio levels manually."
Increased maximum burst during continuous RAW shooting
The maximum burst is increased when shooting RAW images from approximately 15*a to more than 25*b consecutive shots and, when shooting RAW+JPEG (Large/Fine), from approximately 6*a to more than 17*b consecutive shots. The increased maximum burst enables users to capitalise on the EOS 7D's fast continuous shooting speed of 8 approx. frames-per-second, to ensure that fast-moving action shots are not missed.
Support for the GPS Receiver GP-E2 (optional accessory)
When using the optional GPS Receiver GP-E2, firmware Version 2.0.0 makes it is possible to append images with the shooting location's longitude, latitude, and elevation. Additionally, a separate log file is recorded, which tracks the route the photographer took, even though they may not have taken images during this time.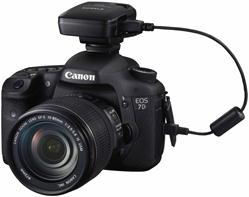 ISO Auto Range Maximum setting
With ISO Auto, it is now possible to set a maximum ISO figure from 400 up to 6400 ISO, in full stop increments. This makes it easier for photographers to prioritise better noise control over blur-free images.
In-camera RAW processing
Photos that were captured at full size RAW can now be processed in-camera, helping photographers to optimise their memory card usage while on the go.
In-camera rating function
A five-scale image rating function has been added to help streamline image management.
JPEG resizing
JPEG images can be resized in-camera and saved as a new file, useful when the photographer wants low resolution copies to email or upload to the web.
Quick Control during Playback
By pressing the Q button during playback, photographers have quick and easy access to functions such as rating, in-camera editing, and configuring how the image is displayed.
Audio Level Adjustment
Videographers can now manually set the sound recording levels in 64 increments. This provides far greater control over how audio is captured through built-in and external microphones, when capturing video.
Manual File Naming
Photographers can now set the file name prefix before capturing images, helping them to categorise their images based on who they are photographing or where they are, for example.
Faster scrolling of magnified images.
When checking focus at full magnification during playback, it is now possible to scroll around the frame much faster, allowing the photographer to be more productive.
Any new EOS 7D cameras shipped from Canon Australia after 7 August 2012 will have the new firmware installed.
*1      Firmware Version 2.0.0 will be available for download from 7 August 2012 at http://support-au.canon.com.au/P/search?model=EOS%207D&filter=0&menu=Download
Related links:
·         Firmware Version 2.0.0 (from 7 August 2012)
·         Firmware Version 1.0.x for WFT-E5A/B/C/D/E (from 7 August 2012)
When using the WFT-E5 with an EOS 7D updated to firmware Version 2.0.0, it will be necessary to update the WFT-E5 with Firmware Version 1.0.x
About Canon:
Canon is the world's leading imaging brand that actively inspires with imaginative ideas that enable people to connect, communicate and achieve more than they thought possible through imaging solutions for business and consumers. Canon's Australian R&D company, CiSRA, develops and exports digital imaging technologies for use in Canon products worldwide. Canon has ranked among the top-four US patent recipients* for the past 20 years, and had global revenues of around $US46 billion in 2011. Canon Australia also operates Canon Finance Australia, which offers one-stop shopping for customers wanting leasing or finance services. For more information, visit www.canon.com.au, www.facebook.com/canonaustralia, www.twitter.com/canonaustralia, www.youtube.com/canonaustralia
* Based on weekly patent counts issued by the United States Patent and Trademark Office