Canon Australia today announced the latest additions to its award-winning EOS lens range – two tilt-shift camera lenses, including the widest angle tilt shift lens on the market. The TS-E17mm f/4L (ultra-wide lens) and TS-E24mm F/3.5L II (wide angle lens) have been developed to strengthen Canon's TS-E series of lenses, capable of tilt and shift movements.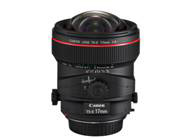 Professional photographers, in particular landscape and architectural shooters, will be impressed with the improved operation, usability and optical performance of the lenses. The compact lenses deliver the highest optical performance in their class, specifically designed for high-megapixel sensors.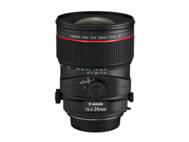 Key Features of both lenses
Aspheric lenses correct distortion common in architectural photography
New SWC (Sub Wavelength Structure Coating) to minimise flare and ghosting
New tilt-shift full revolving knob for comfortable operation
Environmentally friendly lead-free glass in optical system
High-speed AF via high-speed CPU and optimized AF algorithm
Pricing and Availability
The TS-E 17mm F/4L (RRP $TBC) and TS-E 24mm F/3.5L II (RRP $TBC) lenses will available from May 2009 through Canon dealers nationally. For more information customers can contact Canon on 1800 021 167, or visit the website at canon.com.au.
Canon celebrates 50 years of single-lens reflex camera sales
This year, Canon celebrates the 50th anniversary of the sale of Canon's first single-lens reflex camera in 1959. Over the past half-century, Canon SLR cameras have evolved with the times, incorporating advanced and groundbreaking technologies. Winning the widespread support of users worldwide, production of Canon SLR cameras have already surpassed the 50-million unit mark (53.68 million units as of the end of December 2008).
About Canon
Canon Australia is a leading provider of advanced, simple-to-use imaging solutions for businesses and consumers. Canon's Australian R&D company, CiSRA, develops customised solutions for local customers, and exports digital imaging technologies for use in Canon products worldwide. Canon has ranked among the top-three US patent recipients for the past 17 years, and had global revenues of around $US45 billion in 2008. Canon Australia also operates Canon Finance Australia, which offers one-stop shopping for customers wanting leasing or finance services. For more information, visit canon.com.au