A 10.1 megapixel CMOS sensor, simpler operation and Canon's Self Cleaning Sensor Unit make the EOS 400D (EOS Digital Rebel XTi in the US) Australia's new favourite digital SLR.
sPress Release

Finding the perfect shot is now easier than ever before, with Canon Australia today announcing the EOS 400D digital SLR (D-SLR) camera. With accelerating interest in digital SLR cameras, Canon developed the EOS 400D to make creative photography both exciting and incredibly accessible to anyone who loves telling a story through photos.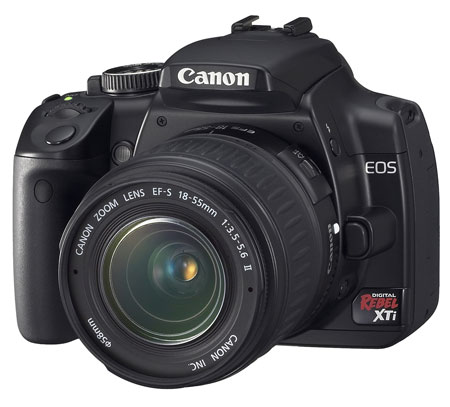 Replacing Australia's number one-selling D-SLR, the EOS 350D, the new model includes a Canon-developed 10.1 megapixel CMOS image sensor that delivers stunning, professional quality photographs. Super-fast image processing, thanks to Canon's proprietary DiG!C II processor, ensures the camera is capable of capturing three frames per second (fps) for a burst of up to 27 consecutive frames.
Scott Jackson, Product Manager, Consumer Imaging Products Group, Canon Australia, said Canon developed the new model to inspire users to discover their creativity – simply by having fun with photography.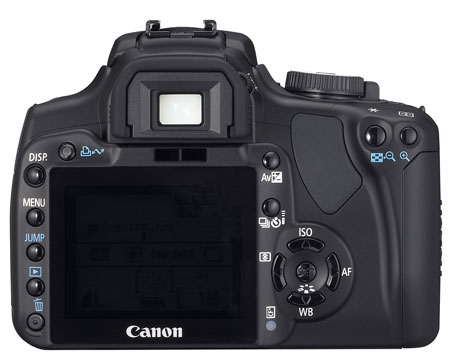 "Photography allows us to share our view of the world through pictures, and Canon believes digital SLR photography should make it easy for anyone who enjoys taking photos to have fun finding their shot.
"With the EOS 400D we've made it easier to enjoy creative digital SLR photography," said Mr Jackson.
Dazzling resolution and rich colour
Exceptional clarity, razor-sharp images and rich colours are all the hallmarks of a Canon-developed 10.1 megapixel CMOS sensor. Combined with the imaging performance and super-fast speed of the DiG!C II image processor, the EOS 400D is the perfect camera for creative photography fun.
Creativity made easy
While it's an incredibly capable partner for advanced photography, the EOS 400D is also perfect for beginners. With a large 2.5-inch LCD screen, and Mode Dial for selection of modes such as Sports, Portrait and Landscape, the camera optimises the settings for particular situations and conditions – built-in expertise to develop the photographer.
More options for your photography
Picture Style settings simulate the characteristics of different types of film, providing photographers with control over the 'look' of their images. Options include Standard – for punchy, print-from-the-camera colour; Portrait – for softer, more natural skin tones; Landscape – for vivid blues and greens and overall sharpness; and Neutral, Faithful and Monochrome, for a more traditional Black and White look.
Dust free images every time
Up until now dust has presented a challenge to capturing the perfect image. If tiny particles of dust manage to enter the camera and adhere to its image sensor, the Self Cleaning Sensor Unit automatically removes them as soon as the camera is switched on, while software removes stubborn dust spots.
Canon EF Lenses for every moment
Canon EF Lenses are the choice of professional photographers all over the world for their optical brilliance and endless versatility. The EOS 400D is compatible with the full range of over 50 EF lenses, the world's largest range, from ultra wide-angle to Super Telephoto and everything in between, including Fisheye and Macro lenses.
Full product specifications can be found on Canon's web site at: http://www.canon.com.au/products/cameras/digital_slr/eos400d.html
EF 50mm f/1.2L USM
Canon's latest lens, the EF 50mm f/1.2L USM, is the fastest standard lens in Canon's line-up The EF 50mm f/1.2L USM uses a large diameter, high precision aspherical element to achieve superb image quality. Its large maximum aperture allows incredibly shallow depth-of-field and a circular aperture diaphragm ensures attractive background defocus.
With its ring-type Ultrasonic Motor (USM) the EF 50mm f/1.2L USM delivers virtually silent operation and full-time mechanical manual focusing, along with high levels of dust and moisture resistance.
EF 70-200mm f/4L IS USM
Canon has also announced the EF 70-200mm f/4L IS USM lens, which builds on the L-series telephoto zoom lens heritage and adds an Image Stabilizer (IS). Canon's Image Stabilizer compensates for the equivalent of approximately four shutter speeds, allowing photographers to capture handheld shots at shutter speeds four stops slower that would otherwise be possible without camera shake blur.
Combining a fluorite element with a UD-glass element delivers exceptional performance throughout the zoom range. Its ring-type Ultrasonic Motor (USM) offers fast, virtually silent operation and, like the EF 50mm f/1.2L USM, manual focusing is possible even during AF mode with full-time mechanical focusing.
Importantly for travelling photographers, the lens is designed for use in harsh conditions, incorporating high levels of dust and moisture resistance.
Accessories
Canon's EOS 400D supports a range of standard and optional accessories, including the optional BG-E3 Battery Grip. The EOS 400D is also compatible with the complete range of over 50 Canon EF and EF-S lenses, including L-series and Image Stabilizer lenses, and Canon's EX-series Speedlites.
Availability
The Canon EOS 400D will be available in both black and silver in various kit configurations from Canon resellers nationally in early September, with pricing to be confirmed.
In US stores mid-September, the EOS Digital Rebel XTi (same as the 400D) camera is offered in both sleek brushed silver patina and "pro" matte black finishes. It is available in two kit configurations: with and without Canon's high quality EF-S 18-55 mm f/3.5-5.6 zoom lens. The EOS Digital Rebel XTi camera will be available for an estimated selling price US$899* with the zoom lens kit, while the body only kit will carry and estimated selling price of US$799*. In order to maintain an appropriate pricing structure, the Digital Rebel XT model will carry an adjusted estimated selling price of US$799* with the zoom lens kit and $699* for the body only kit.
The EF 50mm f/1.2L USM will be available late September and the EF 70-200mm f/4L IS USM late November through Canon resellers nationally.
Customers can contact Canon on ph: 1800 021 167 or visit the website at canon.com.au.
About Canon
Canon Australia is a leading provider of advanced, simple-to-use imaging solutions for businesses and consumers. Canon's Australian R&D company, CISRA, develops customised solutions for local customers, and exports digital imaging technologies for use in Canon products worldwide. Canon has ranked among the top-three US patent recipients for the past 13 years, and had global revenues of around $US32 billion in 2005. Canon Australia also operates Canon Finance Australia, which offers one-stop shopping for customers wanting leasing or finance services. For more information, visit canon.com.au.