PIXMA MX7600 – First Ever Office All-In-One Printer To Use New Pigment Reaction Technology, and Professional Quality Pigment-Based LUCIA Inks, Allowing Small Business Users to Print Beautiful Graphics and Presentations on Plain Paper
Press Release

Canon U.S.A., Inc., a leader in professional business and consumer
imaging equipment, proudly announces the newest addition to its PIXMA
printer lineup, the PIXMA MX7600 Office All-In-One (AIO) printer with
the professional quality pigment-based LUCIA ink system for homes and
small offices. Along with its multi-function capabilities, the PIXMA
MX7600 Office AIO printer has the ability to produce crisp graphics
and text on plain paper with the incorporation of the new Pigment
Reaction (PgR) technology. This new technology allows consumers to
print superb quality color documents or presentations on plain paper
at a small office or even from the comfort of home.
Designed for the small business user who has trusted Canon laser
products for business success, the inkjet PIXMA MX7600 Office AIO
completes a stellar small office lineup with its color and text
capabilities. Consumers can achieve both superb photo print quality
and print durability on plain paper with Canon PgR technology. With
the use of a new clear ink working in tandem with five LUCIA pigment
inks when printing from the cassette on plain paper, users can say
good-bye to oversaturated and wrinkled documents. The clear ink (PGI-9
Clear) initially covers the print surface enabling the pigment ink to
bond with the clear ink to produce outstanding graphics, text and
photo images. Considering that a majority of small business printing
is done on plain copy paper, PgR technology can bring savings to small
businesses with low-volume color requirements for printing, by
consolidating all printing tasks in a single unit, enabling the
printing of high-quality materials on low-cost plain paper. The
curling, ink bleeding and printing through the paper sometimes
associated with color inkjet printing on plain paper is dramatically
reduced so that end-results are sharp, professional, business
documents time and time again.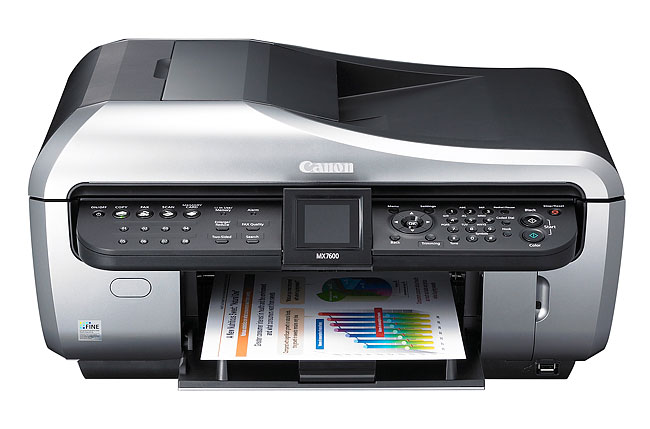 "Canon prides itself on being able to provide the business user
with products that satisfy all of their imaging needs," said Yuichi
Ishizuka, senior vice president and general manager, Consumer Imaging
Group, Canon U.S.A. "The introduction of PgR technology in the PIXMA
MX7600 Office AIO further demonstrates Canon's commitment to providing
innovative products that can increase productivity, and provide the
business user with superb image quality without leaving home or the
office."
The Office Powerhouse:
The versatile PIXMA MX7600 Office AIO is the ideal addition to any
small business environment looking for a total solution in color
printing, copying, scanning, faxing and networking. Designed with a
stylish and sleek exterior, Canon PIXMA AIO printers not only save
space and reduce power consumption, but add to the overall look of an
office as well. For the real estate agent who needs to print out the
latest floor plan and property photos or the restaurant owner looking
to distribute an updated color menu with images, the Canon PIXMA
MX7600 Office AIO produces professional-quality documents on plain
paper. This Office AIO printer also comes equipped with an automatic
document feeder (ADF) and Advanced Media Handling with Auto Duplex
printing and two-way paper feeding. The ADF allows for both sides of a
letter-sized document to be copied/scanned automatically while Auto
Duplex printing of two-sided letter-sized documents can be
copied/scanned without having to manually turn over pages or re-feed
the document. Thanks to the effects of PgR technology, double-sided
documents not only look professional but feel professional as well.
This unit can also scan and print at the same time, which can
dramatically decrease the time needed to complete a project. When
copying a multi-page document, the PIXMA MX7600 Office AIO will scan
the first page and start printing it while the scanner is scanning and
then printing each successive page.
For the business owner who wants the ability to share printing and
scanning with multiple users, the PIXMA MX7600 Office AIO has a 10
Base T/100 Base-TX Ethernet port built-in for multiple users to
network to one printer. At the same time, with today's small business
looking for more secure technologies, the MP Navigator EX software
that accompanies this new PIXMA Office AIO, offers PDF security that
can limit access and restrict printing of PDF files by adding
passwords. The Quick Start feature found on some previous PIXMA
printers is also included on this model, so consumers can get the job
started in a matter of seconds. Canon even designed the unit's Super
G3 color fax(1) with speed and ease-of-use in mind. It includes
features that allow users to receive up to 250 incoming pages in
memory(2), one-touch speed dialing (eight numbers) and a coded speed
dial function that can store up to 100 locations. The ability to print
out 28-ppm black and 23-ppm color(3), means that even with the quality
benefits of PgR technology, this model remains a productivity-driven
office powerhouse.
A True Photo Lab
Utilizing the same LUCIA pigment-based ink found in Canon's
award-winning wide-format printers and PIXMA Pro9500 photo printer,
the PIXMA MX7600 Office AIO provides high-quality, long-lasting
photographs with exceptional color. The FINE printhead technology uses
3,584 nozzles ejecting microscopic droplets as small as two picoliters
to produce photos with a maximum color resolution of 4800 x 1200
dpi.(4) The Auto Image Fix feature works directly from a connected
digital camera or compatible memory card for seamless optimization of
prints without being connected to a computer. The 1.8″ LCD screen
allows the user to preview images before printing. The Canon PIXMA
MX7600 Office AIO even features direct printing from select memory
cards(5) and PictBridge-ready devices, while the CIS scanner allows
for high-quality, high-speed scans.
Generation Green
Canon's commitment to the environment and helping to make it more
sustainable is an inherent part of the Company's kyosei philosophy and
subsequent product offerings. From duplex printing to Energy Star(R)
compliance and significant changes to product packaging, the
Generation Green initiative is designed to provide partner companies,
enterprise customers and consumers a way to identify and learn about
the various environmentally-friendly product features and solutions
Canon printers offer. For more information on Generation Green, and
the many eco-friendly aspects of Canon inkjet and laser printers,
please visit http://www.usa.canon.com/green.
The new PIXMA MX7600 Office AIO has an estimated retail price of
$399.99(6).
About Canon U.S.A., Inc.
Canon U.S.A., Inc. delivers consumer, business-to-business, and
industrial imaging solutions. Its parent company, Canon Inc.
(NYSE:CAJ), a top patent holder of tec
hnology, ranking third overall
in the U.S. in 2007+, with global revenues of $39.3 billion, is listed
as one of Fortune's Most Admired Companies in America and is on the
2007 BusinessWeek list of "Top 100 Brands."
All referenced product names, and other marks, are trademarks of
their respective owners.
(1) The Public Switched Telephone Network currently supports fax
modem speeds of 33.6 Kbps or lower, depending on telephone line
conditions. Sending and receiving fax machines need to conform to
ITU-T v.34 guidelines.
(2) Page count is based on ITU-T No.1 chart or Canon FAX Standard
Chart.
(3) Photo print speeds are based on the default mode driver
setting using photo test pattern(s) and select Canon Photo Paper.
Print speed measured as soon as first page begins to feed into printer
and will vary depending on system configuration, interface, software,
document complexity, print mode, types of paper used and page
coverage. PPM print speeds are based on thr highest speed printer
driver mode using black and white and color text patterns.
(4) Resolutions may vary based on printer driver settings. Color
ink droplets can be placed with a horizontal pitch of 1/4800 inch at
minimum.
(5) Compatible memory cards include SD Memory Card, SDHC,
MultiMediaCard, CompactFlash Card, Microdrive, Memory Stick and Memory
Stick PRO. The following can be used with the addition of a special
adapter sold separately: miniSD Card, RS-MMC, Memory Stick Duo, Memory
Stick PRO Duo, microSD Card and xD-Picture Card.
(6) Pricing subject to change at any time. Actual prices are set
by individual dealers.
+ IFI Patent Intelligence Press Release, January 2008