Jungle DVD offers high speed imaging tools for art pros using Corel Painter or Paint Shop Pro.
Press Release
DigArts Software announces the release of their newest collection of
high-speed paints for art professionals using Corel Painter or Paint
Shop Pro.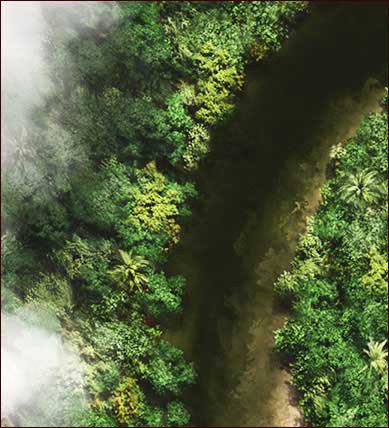 "Jungle DVD is a massive upgrade to our Jungle series," said Dennis
Berkla, president of DigArts Software. "It adds over 800 new
nozzles and tubes that render forests, trees and gardens better than
ever, whether as textures for 3D game environments, film effects and
architectural visualizations or for photo retouching, illustration and
fine art. I like to think of it as our rumble in the imaging
jungle because they're a real advance in imaging media."
Jungle DVD's new "cluster" paints work as progressive iterations of
plant growth. Think next generation paints that render
landscapes, trees and nature with unmatched ease and visual
sophistication. That's because artists actually paint with
coordinated clusters of foliage and flowers. They simply spray the
foliage the way they want it to grow, even at print resolutions.
Whole forests are possible, not to mention gardens, trees, plants and
leaves.
"And we didn't stop there," Berkla continued. "We doubled and tripled
the number of images in the paint sets while increasing angular
diversity and articulation. The result is the paints render with
greater realism. They're customizable now too. Artists can
add effects or shadows, even new foliage elements in much the same way
traditional artists mix pigments on a palette. It's as simple as
lift, mix, drop and save. You simply modify the paints as needed."
The two-disc set, which includes the original Jungle 2D and 3D
products, is currently available for Corel Painter (Mac or Windows) and
Paint Shop Pro. Other versions are in the works. For detailed
product information, examples and trial versions visit DigArts website
at http://www.gardenhose.com.
Jungle DVD sells for US$149.95 not including bundle discounts. Upgrade paths are available as well.
Established in 1994, DigArts Software creates imaging solutions for
artists working in over 40 countries worldwide. DigArts other
products include Tree Forestry, Grains & Grasses, Palm Paints,
Tubular Neon and assorted texture collections.