Yes, it is here. digital imageMaker international is now out as a magazine featuring profiles and interviews with leading photographers and digital artists of our time.
digital imageMaker international 01 brings you some of the world's best photography and digital art in book form. This volume in an ongoing series brings you portrait photography by Nadia Salameh, art by Bonny Lhotka and David J. Bookbinder, insect photography by Jane Davenport, generative art by Don Relyea and a profile of the Digital Art Guild. Stunning images will stimulate and delight you while insightful interviews will educate and inform.
DIMi is available in three forms at the moment: print, PDF and eBook.
Print and PDF distribution is being handled by MagCloud
It is available for the Kindle from Amazon
It is available in all eBook formats from Smashwords
It is in the Apple ebook store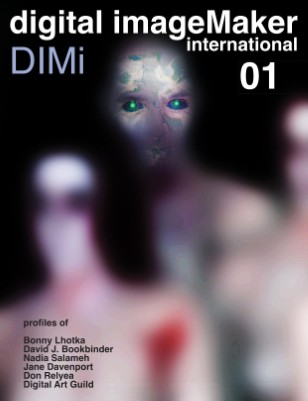 DIMi brings you profiles of leading photographers and digital artists from around the world, with insightful interviews. Discover how the top photographers and artists work, their thought processes, favourite techniques and much more.