New photo scanner looks most impressive.
Press Release
Following these key points is a detailed media release about the new Epson Perfection V500 Photo scanner.
The world's first CCD scanner to be powered with energy efficient ReadyScan LED technology that is environmentally friendly as it contains no mercury and has a lower power consumption all without compromising on quality.
Optical resolution of 6400 x 9600dpi and optical density of 3.4 Dmax for outstanding photographic quality combining image clarity and colour consistency.
Advanced Matrix CCD Micro lens technology for superior image reproduction.
Digital ICE software for the accurate detection and removal of dust and scratch marks from colour film and slide scans.
With versatility in mind the Perfection V500 has two film holders and is the complete solution for scanning documents, photos, 35mm strip film and slides and medium format film.

Release follows:

Epson is leading the way with another world first, releasing the Perfection V500 Photo scanner with energy efficient ReadyScan LED (Light Emitting Diode) technology designed for professional photo scanning – a first in CCD scanners.

The white light LED technology is environmentally friendly, as the ReadyScan LEDs contain no mercury, have low power consumption and heat dissipation and virtually no warm up time.

The Perfection V500 Photo's high level of performance is due to the combination of 6400dpi Matrix CCD (Charged Coupled Device) and Micro Lens Technology. By incorporating on-chip Micro Lens on every CCD chip, greater light volume is captured during the scanning process, creating superior image reproduction. Scanning is then taken to the next level with 12 lines of CCD with micro lenses compared with six lines on previous models, therefore producing quality scans at super-fast speeds.

An optical density of 3.4 Dmax means the Perfection V500 Photo captures a wide range of tonal colours ensuring the greatest level of detail in both highlight and shadow areas.

The Perfection V500 Photo features Digital ICE (Image Correction and Enhancement) and Digital ICE Lite, a powerful tool that uses both hardware and software to accurately detect and remove dust, scratch marks and finger prints from colour film and slide scans. The Digital ICE software analyses each scan for the nature and location of image surface defects using an infrared LED channel that collects information during the scanning process. This ensures the removal of image surface defects without softening, blurring or altering any of the image's underlying details or composition.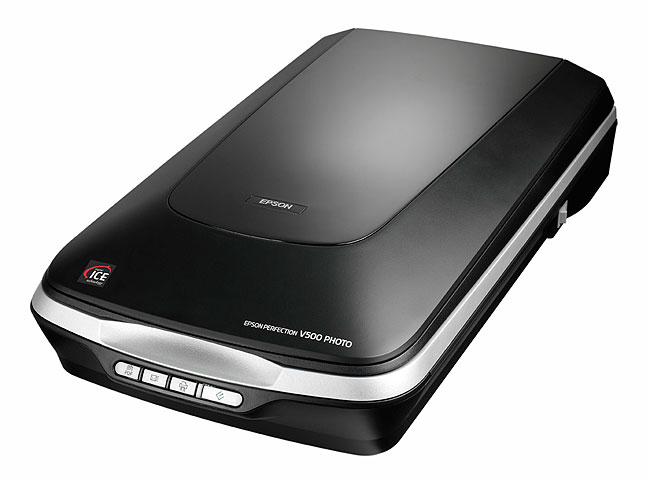 The Perfection V500 Photo is a versatile scanner providing the ideal solution for scanning documents, 35mm strip film and slides and medium format film. It features an integrated Transparency Unit (TPU) and two film holders that can process 12 frames of 35mm strip film, 4 frames of 35mm mounted slides and 1 frame of 6×12 centimetre medium format film.

With a USB 2.0 port interface compatible with Windows and Mac, the Perfection V500 also comes with an array of bundled software including the newest version of Epson Scan 3.2 that restores faded photos and automatically corrects any defects, Adobe Photoshop Elements; an advanced photo editing program that allows consumers the flexibility to transform their images, and ABBYY Fine Reader Sprint Plus that converts scanned documents into editable text.

The Epson Perfection V500 is valued at RRP $499 including GST in Australia and is available now through Epson dealers.
In the US it sells for US$249.99.

About Epson Australia

Epson offers an extensive array of award winning image capture and image output products for the consumer, business, photography and graphic arts markets, and is also a leading supplier of value-added point-of-sale (POS) solutions for the retail market. Epson is the market leader worldwide in sales of data projectors [DTC Consulting Limited figures]. Epson's products meet consumer and business customer needs for superior quality colour image reproduction (printers), projection (projectors) and capture (scanners) devices with high-level functionality, compactness, systems integration and energy efficiency. Epson Australia, founded in 1983 is headquartered in North Ryde NSW and is a subsidiary of the Epson Group headquartered in Japan.

About the Epson Group

Epson is a global leader in imaging products including printers, 3LCD projectors and small- and medium-sized LCDs. With an innovative and creative culture, Epson is dedicated to exceeding the vision and expectations of customers worldwide with products known for their superior quality, functionality, compactness and energy efficiency.

Epson is a network of 87,626 employees in 117 companies around the world, and is proud of its ongoing contributions to the global environment and to the communities in which it is located. Led by the Japan-based Seiko Epson Corp., the Group had consolidated sales of 1416 billion yen in fiscal 2006.