New line of fisheye products for dSLR camera include 185 degree fisheye lenses, dewarping software and panorama tripod heads.
Sunex to Exhibit at Las Vegas PMA 2008, Jan 31-Feb 2 at Booth #H177
Sunex, Inc. a world leading provider of wide-angle lenses for
digital imaging products will exhibit a complete new line of fisheye
products for DSLR cameras. The new SuperfisheyeTM product family is
designed for fast and easy creation of panoramas and 360 degree
immersive images. The product family includes 185 degree fisheye
lenses optimized for Nikon and Canon DSLRs, panoramic tripod heads and
dewarper software. Trade show attendees can view and test the new
fisheye product line by stopping by Sunex's booth, # H177.
Sunex designs, manufactures and markets digital imaging optical
lenses for challenging OEM applications such as automotive (rear-view
camera), visual communication (video conference) and security
(wide-angle camera). Professional and amateur photographers can now
benefit from Sunex technology by using Superfisheye products to easily
create panoramas and immersive images using affordable DSLR cameras.
Sunex believe panoramas and immersive images will become more popular
to promote real estates and recreational/vacation sites with virtual
tours. Until now, creating immersive pictures involved complex camera
and lens set-ups as well as complex digital image manipulation using
expensive software. Sunex Superfisheye products overcome these issues
by providing an affordable and simple-to-use solution to accomplish
spectacular panoramas and full immersive images.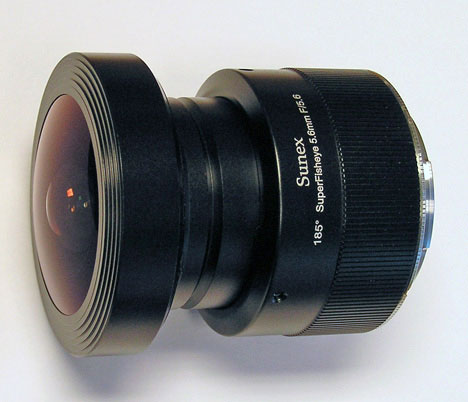 Focal length 5.6mm
Fixed aperture F/5.6, optimized for both indoor and outdoor uses.
185° field of view
Image circle: ~14.5mm
Fixed focus with a depth of field: ~0.5m to infinity with one pixel blur (Calculate the depth of field for other blur circle).
Size: ~70mmx90mm (dia x length)
Weight: ~470g
Mount: Canon and Nikon
For more information on the Superfisheye product line please visit
http://www.superfisheye.com.