Industry's first photo backpack made FROM 51% recycled materials. Part of sales go to support a Polar Bear conservation project.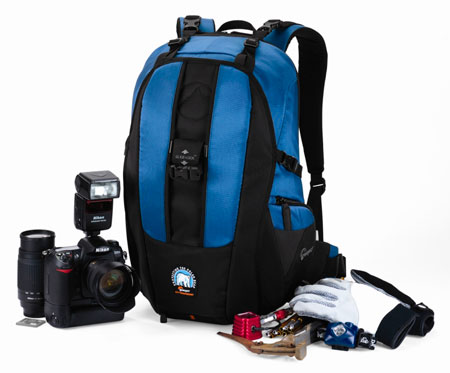 Maxwell International Australia and Lowepro, the worldwide leading provider of protective cases and backpacks for imaging and technology products, are pleased to announce the imminent arrival of the Primus AW, a unique camera backpack commemorating the company's 40th anniversary, due in Australia this winter.

The Primus AW is the industry's first backpack designed for the professional photographer, made from more than 50% recycled materials. Lowepro's Primus AW is a perfect combination of unmatched easy access and extreme-condition protection for photo travellers. The Primus AW backpack provides professional photographers with a backpack of unparalleled durability, while providing maximum comfort, protection and accessibility with minimal bulk. Importantly, a % of funds raised (tbc) from the sale of the Primus AW will support Polar Bears International (PBI), a not-for-profit organisation dedicated to the worldwide conservation of the polar bear.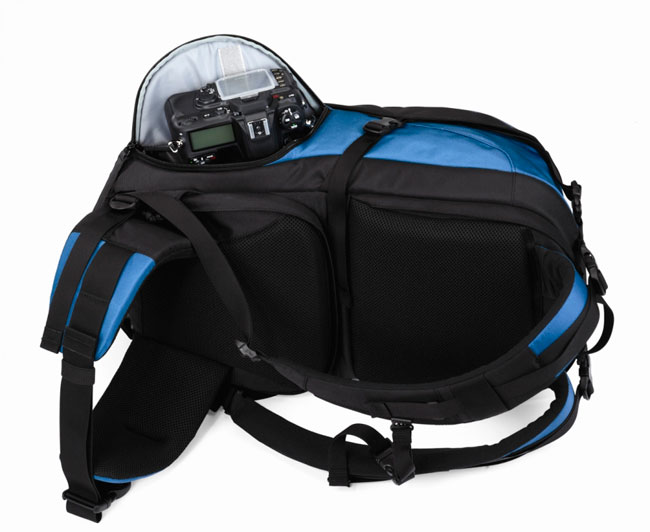 Designed unlike any bag currently on the market, Primus AW enables photographers to carry and access all the necessary components for outdoor photography while providing the highest possible comfort and extreme protection during a full day of shooting in the great outdoors. The main camera compartment is solidly padded and holds a digital SLR Pro body with zoom lens attached, as well as 1-2 extra lens or flash units. The camera compartment is expandable, enabling capacity for large items of equipment and quick equipment retrieval. The Primus AW also offers photographers quick and easy access to their equipment, without removing the bag from their back, through expandable side zipped camera pockets. The bag's exclusive lumbar equipment access points allow instant access to camera gear of varying sizes, while keeping equipment off the ground. An additional top daypack compartment is large enough to carry all the accessories needed for outdoor photography, plus personal gear. Primus AW also boasts a seam-sealed All-Weather CoverTM, a built-in memory card pouch, back hatch, hideaway tripod mount with ice-axe loop and Glide-Lock(TM) attachment.

"Developing products to enhance and further the outdoor photography experience has been part of our mission at Lowepro throughout our 40 year history," said Uwe Mummenhoff, Chairman of Lowepro. "The Primus AW backpack was designed to deliver the greatest comfort and security for photography equipment when venturing out into potentially adverse conditions, whether they are of extreme heat and dust or snow covered mountain climbing."

With the release of the Primus AW, Lowepro is honored to present the industry's first backpack to be constructed of 51% recycled materials. The majority of the outside bag material is made from Cyclpet®, a 100% post consumer recycled fabric, establishing the Primus AW as a new industry standard for eco-friendly carrying solutions. Each bag contains enough recycled material to equate to 22.6 soft-drink bottles.
Preventing this material from reaching landfill, 0.26M of space is being conserved for each bag produced. By simply requiring that each bag be made from 51% recycled materials, Lowepro is able to conserve approximately 15,600kJ of energy, .002 barrels of crude oil and 0.68 litres of refined oil throughout the production process.

"The release of Primus AW celebrates the spirit of conservation which has been, and continues to be, an integral part of the Lowepro culture," Mummenhoff added. "No other bag in the photography industry is made from 51% recycled materials. We are both proud and honoured to present this achievement to the market. In addition, our ongoing commitment to Polar Bears International will help fund their efforts to preserve our world for future generations of photographers," added Mr Mummenhoff.

PBI was founded by wildlife photographer Dan Guravich and with his memory in mind, the organisation works tirelessly to provide education on the potential dangers these animals face. Supporting the efforts of PBI is both rewarding and humbling."

Polar Bears International's mission is to conserve the world's polar bear population through research and education, as well as to serve as a central educational resource on polar bears worldwide. A potentially threatened species, the major threat to the polar bear is climate change due to global warming which could easily put the polar bear on the endangered species list. Polar bears are also jeopardized by pollution, poaching, and industrial disturbances. All officers and directors serve the foundation without pay or expense reimbursement, so the organization is able to apply 100% of its revenue directly to research programming.

"PBI is delighted to have the support of Lowepro as we pursue our mission to conserve the world polar bear population through research, education and awareness," said Robert Buchanan, president of Polar Bears International. "PBI is proud to partner with a company like Lowepro who has continually demonstrated such a strong commitment to conservation and environmental protection. At a time when we should all be looking to reduce our carbon footprint, it is wonderful to see that Lowepro is engaged in such an important conservation effort."

Additional features of the Primus AW backpack include an ergonomic, dryflow lined harness system used to distribute weight evenly and allow for breathable comfort. The 100% post consumer recycled fabric combines water and abrasion resistance with an ecologically-minded design. This pack also conforms to a variety of body types with an adjustable 8-point harness system giving the adventure photographer exceptional comfort under heavy load. Silent zipper pulls provide quiet access to equipment while leaving wildlife subjects undisturbed.

To be available in arctic blue or black materials from all leading camera stores the Primus AW retails for around $320.00 including GST in Australia – In store July 2007.

For further information please visit www.lowepro.com

Primus AW Anniversary backpack has the following dimensions:

External: 33.5 x 23.5 x 51 cm / 13.2 x 9.3 x 20.1 in
Internal: 32 x 14.5 x 18.5 cm / 12.6 x 5.7 x 7.3 in (camera compartment)
30 x 16 x 30 cm / 11.8 x 6.3 x 11.8 in (daypack compartment)

About Lowepro
Lowepro founder Greg Lowe established the company's reputation for quality and innovative design in 1972 when he introduced the world's first foam-padded, soft-sided camera bag. More than 40 years later, Lowepro is continuing to revolutionize the industry with pioneering design and superior quality with the most extensive line of protective carrying solutions for photographic and electronic equipment including products for cameras, camcorders, notebook computers, imaging accessories and portable consumer electronics.
Lowepro products are distributed in more than 100 countries around the globe through photo, outdoor, computer, consumer electronic, mail order and online res
ellers, in addition to OEM partnerships. Lowepro Corporate Offices are located in the United States, Canada, the United
Kingdom, Australia and Germany. For more information about Lowepro or Lowepro products, visit www.lowepro.com.

About Polar Bears International
Polar Bears International was founded in 1992 by wildlife photographer Dan Guravich, a Canadian native who was internationally known for his work with polar bears. Dan served as PBI's first president. He resigned in 1995 for health reasons, but remained active as chairman of the board until his death in 1997. Today, members of the PBI board of directors and advisory council are scattered across the U.S. and Canada.

All trademarks are the property of their respective holders.