New 055CX3, 055CXPRO3 and 055CXPRO4 Join Manfrotto's Versatile and High-Performance Family of Carbon Fiber Supports
Manfrotto, a world leading manufacturer of professional photo and video support products, is proud to introduce the 055CX, the newest addition to the company's high-performance and versatile CX family of carbon fiber tripods. Available in both PRO and CX3, the 055CX tripod was designed to meet the demanding needs of the professional or enthusiast shooter.
The new 055CX builds off the success of its 190CX sibling, and is highlighted by redesigned locking levers, new leg angle selectors, and re engineered magnesium castings (CXPRO only), all which grant significant improvements and add to the beauty of the new carbon fiber tripod. The new ergonomic locking levers are much easier for shooters to operate and thanks to their new design, become a seamless element of all CX tripods.
Like the 190CXPRO, the new three section 055CXPRO3 and four section 055CXPRO4 feature Manfrotto's innovative and award-winning Q90° (Quick Center Column System). The Q90° system allows the center column to be rotated to a horizontal position with one simple motion, all without removing the head or disassembling the column itself, making switching between framing and positioning setups a breeze. Additionally, Manfrotto has resigned the top plate on the 055CXPRO. The magnesium top plate now incorporates a bubble to help aid in leveling the camera and tripod, and has also been refined for a more attractive look. The redesign of the plate also yields a significant reduction in weight. The three section 055CX3 features an aluminum top plate and spider casting. The 055CX3 does not feature the Q90° center column system.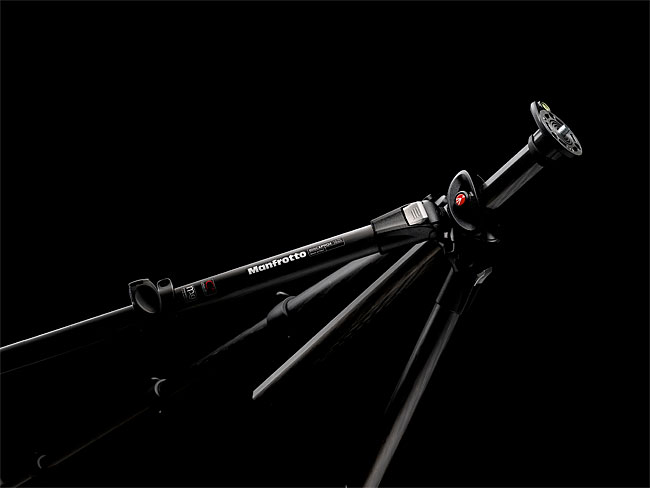 Carbon Fiber Quality
In order to reach high-quality standards and high levels of performance, rigidity and lightness, the new Manfrotto CX tubes are made of 100 percent carbon fiber. When it comes to the use of composite materials– especially carbon fiber — in the manufacture of photographic supports, the end result can vary and ultimately depends on the production process and the ratio of carbon fiber material to epoxy present in the tubes. For its CX carbon fiber tripods, Manfrotto utilizes nothing other than 100 percent carbon fiber and employs pultrusion, pull winding technology to manufacture the tubes. The pultrusion product process allows for the manufacture of carbon fiber tubes that excel in both flexion resistance and torsion rigidity; features that matter most for camera support applications.
The 055CXPRO4 and 055CXPRO3 feature all carbon fiber tubes, including a tri-faceted center column, while the simpler CX3 version features carbon fiber tubes paired with an aluminum center column.
055CXPRO3
Street Price $400.00
Max Height Column Extended Max Height Column Down Min Height Low Position Min Height Legs Closed Weight Max Load
68.90 inches 55.12 inches 4.53 inches 25.59 inches 3.64 pounds 17.64 pounds
055CXPRO4
Street Price $420.00
Max Height Column Extended Max Height Column Down Min Height Low Position Min Height Legs Closed Weight Max Load
66.93 inches 53.35 inches 4.53 inches 21.46 inches 3.75 pounds 17.64 pounds
055CX3
Street Price $350.00
Max Height Column Extended Max Height Column Down Min Height Low Position Min Height Legs Closed Weight Max Load
69.68 inches 53.54 inches 2.56 inches 24.21 inches 3.92 lbs. 17.64 pounds
All 055CX tripods are available now.
About Manfrotto:
Gruppo Manfrotto are world leaders in the manufacture of professional camera and lighting supports for photography, video, broadcast and entertainment. For 35 years, Manfrotto has been building the world's widest range of tripods, heads and dedicated accessories to support professional and semi-professional still cameras, from the traditional small, medium and large format to the latest digital camera. Every product in the Manfrotto range is designed to provide a perfect combination of important features such as: load capacity, size, stability, transportability, interchangeability and construction quality – guaranteeing unique inimitable reliability and longevity.

About Bogen Imaging
Bogen Imaging Inc is a leading distributor of key accessories brands for the photographic, video, cine and lighting production markets. Bogen is an international company within the Imaging Division of the Vitec Group, which owns the following leading international brands: Manfrotto, Gitzo, Kata, National Geographic Bags and Tripods, Avenger, and I.F.F. As the exclusive US distributor of Metz, Gossen, Elinchrom, Lastolite, Reflecmedia, Formatt Filters, and Rotatrim, Bogen offers the most complete range of exceptional camera and lighting accessories in the business. The Bogen Imaging international network covers the USA, Germany, France, Italy, UK and Japan.