New MPRO Tripods Tower Over the Competition With 100% Carbon Fiber Tubes and Impressive Max Load Capacity
Press Release
Manfrotto, a world-leading manufacturer of photographic and video support products, is proud to introduce MPRO – a new family of carbon fiber tripods that joins its ever-expanding array of solutions for professional videographers. The new MPRO family comprises two models, the 535 and 536, which were specifically designed to meet the needs of professional shooters, especially those involved with ENG applications.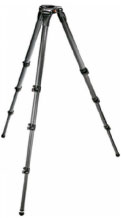 Incredibly lightweight and stable, the 535 and 536 combine some of the world's most advanced and highest-performing materials, including 100% carbon fiber for the manufacture of the tubes, and magnesium for the manufacture of the die castings. Additionally, the 535 and 536 are highlighted by a user-friendly form factor that is both ergonomic and compact. When coupled with the MPRO's single tube design, new leg angle selectors, improved quick-action leg locks, and retractable spiked feet for indoor and outdoor use, the 535 and 536 are easily two of the most versatile and easy-to-use professional video tripods on the market today. The tripods are also quite the workhorses as well, with max load capacities of 55.1 pounds for the 536 and 44.1 pounds for the 535. Furthermore, with a max height of 79.1 inches for the 536 and 65 inches for the 535, videographers can rest assured that they'll never miss a shot or have their view obstructed when in the field.
Specifications
MPRO 536
Max Load 55.1 lbs
Max Height 79.1″
Min Height 10.2″
Folded Length 27.2″
Head Attachment 75mm / 100mm bowl
Leg Angles 3 Steps = 23°-50°-70°
Weight 7.7 lbs

MPRO 535
Max Load 44.1 lbs
Max Height 65″
Min Height 10.6″
Folded Length 28.3″
Head Attachment 75mm bowl
Leg Angles 3 Steps = 23°-50°-70°
Weight 6 lbs
The MPRO 535 and 536 will be available in April 2008 with estimated street prices of $550.00 and $725.00 respectively.
About Manfrotto:
Gruppo Manfrotto are world leaders in the manufacture of professional camera and lighting supports for photography, video, broadcast and entertainment. For 35 years, Manfrotto has been building the world's widest range of tripods, heads and dedicated accessories to support professional and semi-professional still cameras, from the traditional small, medium and large format to the latest digital camera. Every product in the Manfrotto range is designed to provide a perfect combination of important features such as: load capacity, size, stability, transportability, interchangeability and construction quality – guaranteeing unique inimitable reliability and longevity.
About Bogen Imaging:
Bogen Imaging Inc is a leading distributor of key accessories brands for the video, cine, lighting and photographic markets. Bogen is an international company within the Imaging Division of the Vitec Group, which owns the following leading, international brands: Manfrotto, Gitzo, Kata, National Geographic bags and tripods, Avenger, and I.F.F. As the exclusive US distributor of Metz, Gossen, Elinchrom, Lastolite, Reflecmedia and Formatt Filters, Bogen offers the most complete range of exceptional camera and lighting accessories in the business. The Bogen Imaging international network covers the USA, Germany, France, Italy, UK and Japan.