Panasonic Australia is set to introduce the LUMIX DMC-L10, its second digital single-lens reflex camera with an interchangeable Leica lens.
Press Release

The DMC-L10 offers the photographic enthusiast the convenience of 'Live View' which allows users to frame and check their shot before capturing the image. The LCD can rotate 270 degrees, enabling versatile shooting options, and making it easy and convenient to shoot from high or low angles.

The LEICA D VARIO-ELMAR 14-50mm / F3.8-5.6 (35mm equivalent: 28-100mm) MEGA O.I.S. lens shipped with the camera combines high-quality with a compact size, and will also be available separately as the latest addition to the Four Thirds lens line-up.

The DMC-L10 can be used with lenses made by a variety of manufacturers, as it uses the open Four Thirds System for its lens mount, providing a host of equipment options.

Technologies for outstanding image quality include a 10.1-megapixel Live MOS sensor which provides beautiful images with delicate gradation and a wide dynamic range; and Panasonic's Supersonic Wave Filter system that prevents dust from collecting on the sensor and degrading photo quality. The Venus Engine III image processor provides high quality image rendering and high speed response.

The DMC-L10 also has a Dual AF function – with Contrast AF and Phase Difference AF – that gives users greater freedom of choice.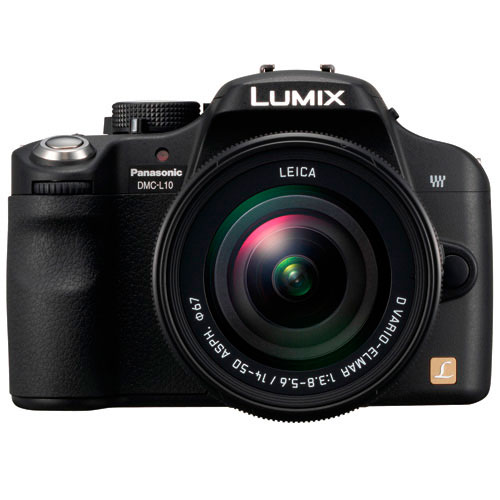 To further extend ease of use, Panasonic has also included Face Detection and Intelligent ISO Control features from its digital compact camera line. The DMC-L10 is Panasonic's first digital SLR with Face Detection, which will focus, set auto exposure and can detect up to 15 human faces simultaneously, capturing the subjects clearly and brightly. Combining Face Detection with Panasonic's Intelligent ISO Control settings, which measures the movement of the subject and sets the ISO level accordingly, the DMC-L10 helps give consumers crisp, blur-free images.

"The L10 is a stylish black 'pentaprism' camera with a great feature set for the enthusiast photographer looking to move up to a high-quality digital SLR," said Alistair Robins, Category Marketing Manager, Mobile AV, Panasonic Australia.


"Live View' gives them amazing flexibility – settings and effects can be checked beforehand, ensuring the picture will be just as they intended."

The DMC-L10 will be released in November. It will be sold with the LEICA D VARIO-ELMAR 14-50mm / F3.8-5.6 / MEGA O.I.S. lens, and priced at $2199rrp in Australia, $1299.95 in the US.

LUMIX DMC-L10 – latest innovative features

Full-time Live View and free-angle LCD
The 'Live View' LCD lets users easily check the image on the camera after making exposure compensation adjustments or adjusting white balance, but before taking the shot. The LCD rotates 180° horizontally and 270° vertically, for command of virtually any kind of shooting situation, and allowing capture of highly original and creative images – without the need for expensive viewfinder attachments or a tripod.

The LCD also features an automatic brightness level control function, making it possible to view the screen in both sunlit or dark environments.

While in manual mode, the user can enlarge part of the subject on the LCD to check that it is in focus, and also freely move the magnified area for easy framing. Horizontal and vertical guide lines can also be moved and viewed as the composition is finalised.

When using features such as 'Film Mode', you can confirm the look of the settings before you capture the shot. 'Film Mode' mimics the effects of analog film – users select from nine modes including Standard, Dynamic, Nature, Smooth, Nostalgic, Vibrant, Standard B/W, Dynamic B/W and Smooth B/W, with the capability to finely adjust contrast, sharpness, saturation and noise reduction.

Dual AF
The DMC-L10 has a new Dual AF function. Contrast AF, which is selectable in Live View, includes six AF modes – Face, 9-point, multi-point, 3-point, 1-point and spot – to draw out the full advantages of Live View for accurate focusing. The benefits of this new mode include Face Detection, precise focusing through the combination of selectable AF and the large LCD, and the ability to confirm your shot. When using the intuitive optical viewfinder, 3-point Phase Difference AF is ideal for high speed shooting, such as sports activities.

For precise exposure, when shooting with Live View, exposure can be metered and set using the Live MOS sensor for 256-segment multi-zone metering. The viewfinder uses high-speed TTL full-aperture 49-zone light metering. Centre-weighted-metering and spot metering is also available.

Outstanding Image Quality
Leica Lens
The LEICA D VARIO-ELMAR 14-50mm / F3.8-5.6 / MEGA O.I.S. lens is compliant with the Four Thirds system.

This compact, lightweight lens comprises 15 lens elements in 11 groups, including two aspherical lenses, minimising distortion and peripheral vignetting at the wide end. Two ED (extra-low dispersion) lenses reduce chromatic aberration to an absolute minimum.

The lens also incorporates Panasonic's advanced MEGA O.I.S – an optical image stabilisation system controlled by the integrated Venus Engine LSI that provides outstanding hand-shake correction. It supports the Contrast AF system newly-integrated in the DMC-L10 and allows the photographer to use new functions such as Face Detection.

With a minimum focus distance of 29cm and a maximum photographic magnification of 0.42x (35mm equivalent) the new lens makes it possible for the photographer to take outstanding macro shots even without using a tripod.

Live MOS sensor
The L10 uses a high-image-quality 10.1-megapixel 4/3-type Live MOS Sensor, which delivers the same high image quality as a CCD sensor with the low power consumption of a CMOS sensor. This advanced sensor draws on MOS signal amplification technology but uses a simpler structure. It's moulded as a single unit onto a flexible circuit board, reducing both the number of signal exchanges and the contact resistance from wiring. An outstanding process technology with low-voltage activation reduces heat and noise while improving the image quality of the Live View function.
By incorporating 2.2μm pixel technology, Panasonic has succeeded in the mass production of a miniaturised circuit that sustains the same light receiving area as a 7.5-megapixel sensor. In addition, the efficiency of light reception is raised at the same time. The result is to keep the sensitivity as high as, or even higher than that of 7.5-megapixel despite the decreased pixel area.

Venus Engine III
The Venus Engine III image processing LSI developed by Panasonic maximises the performance of the Leica D lens and Live MOS sensor. This advanced LSI helps reproduce images with outstanding resolution, superior colour and detailed gradation. It also distinguishes chromatic noise from luminance noise and selectively reduces the chromatic noise, one of the chief sources of image quality problems. This helps the D
MC-L10 deliver the superb image rendering one expects from a quality SLR camera.

Dust
Reduction
A common concern among digital SLR camera users is the potential of dust entering the camera's body when adjusting interchangeable lenses. This dust can adhere to the image sensor and show up as spots on photos taken. To combat this, Panasonic has equipped the DMC-L10 with a Supersonic Wave Filter system that uses supersonic vibrations to shake off dust clinging to the sensor. Every time the camera is switched on, this filter generates perpendicular supersonic vibrations at an effective rate of around 30,000 vibrations per second.

This simplifies camera maintenance and eliminates worries about any dust entering the camera body when lenses are being changed outdoors; or the dust that may be generated by the movement of mirror, shutter, or by air being pushed across the sensor when using a zoom lens.

Other features of the Panasonic LUMIX DMC-L10 include:

Advanced Scene Modes: As part of the DMC-L10's intuitive usability, the photographer can make finer adjustments for frequently-used scenes such as Portrait, Sports, Landscape and Night Portrait. For instance, when selecting the Portrait or Sports mode, users can further define whether the scene is outdoors or indoors. When using the Landscape mode, users can specify if it is a nature or an architectural shot.

Auto-Focusing Methods: To match the shooting situation and subject's position, the user can select from six auto-focusing methods: Face Detection, 9-point, Multi, 3-point, 1-point and Spot. With the 1-point AF or spot AF method, the auto-focusing area can be chosen from as many as 11 points. Various group area patterns can also be selected with the new Multi method.

Aspect Ratio options: The aspect ratio can be set to 4:3, 3:2 or 16:9. Images captured in 16:9 in High Definition 1920 x 1080 are ideal for playback on today's widescreen flat panel TVs.

· SILKYPIX Developer Studio 2.1 SE: This software is included with the camera for developing RAW files. The DMC-L10 captures both RAW and JPEG files and supports SD/SDHC Memory Cards.

The DMC-L10 will be available from photographic specialist retailers.

The DMC-L10 kit contains: Digital camera body, interchangeable lens, battery pack, battery charger/AC adaptor, AC cable, video cable, USB connection cable, software CD-ROM, strap, lens hood, lens storage bag, body cap, lens cap, lens rear cap, eye piece cap, magnifier eyecup and operating instructions.

For more information on the Panasonic DMC-L10, visit www.panasonic.com.au or contact Panasonic on 132 600.

RELEASED BY PANASONIC AUSTRALIA