A new Standard-Class Digital SLR Camera featuring an Original Dust Removal System for Spotless, Effortless Photography.
Press Release

Pentax Corporation is pleased to announce the release of the Pentax K100D Super. This new standard-class digital SLR camera combines the acclaimed Shake Reduction (SR) system with an innovative Dust Removal (DR) system to assure optimum image quality.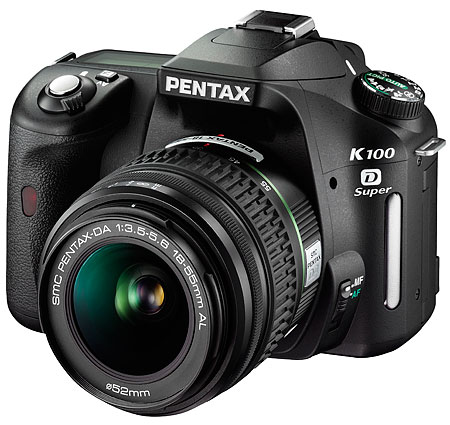 The K100D Super is developed based on the Pentax K100D lens-interchangeable digital SLR camera, first announced in May 2006 and well received by many users around the world. It incorporates the Pentax developed Dust Removal (DR) system, previously available only in the middle class model, to prevent adhesion of dust to the CCD surface and assure spotless images.

It also offers an array of advanced technologies, user-friendly features and an easy-to-holdand easy-to-use design. By combining 6.1 effective megapixels, the K100D Super is designed to assure high-quality digital SLR photography to users of all levels from SLR beginners to experienced hobbyists – with minimum effort.

Main Features :

1. Pentax original Shake Reduction mechanism for sharp, blur-free images –
The K100D Super is equipped with the Pentax-developed Shake Reduction (SR) system, which effectively reduces camera shake for sharp, blur-free images even under such demanding shooting conditions as when using a telephoto lens, shooting in the dark or at night without supplementary flash illumination, or using extended exposures for sunset and night scenes. Using magnetic force, this SLR system shifts the camera's image sensor vertically and horizontally at the optimum speed to compensate for the amount of camera shake detected, assuring outstanding compensation effects (equivalent to approximately 2 to 3.5 shutter steps). Since this versatile system is compatible with all existing Pentax interchangeable lenses, it does not require special anti-shake lenses equipped with add-on optics or devices.

2. Dust Removal system to keep dust off the CCD surface –

The K100D Super features the Pentax developed Dust Removal (DR) system to prevent dust from sticking to the surface of the CCD image sensor (or low-pass filter). Applied to the CCD surface through a vapour deposition process of a fluorine compound, the Pentax- Original Super Protect (SP) coating effectively removes dust and stains from the surface. In the next step, dust that still remains on the surface will be shaken off when the SR system shifts the CCD at high speed. The dust that is shaken off the CCD will fall onto an adhesive sheet positioned at the bottom of the SR unit, eliminating any possibility of its returning to the CCD surface.

3. Auto sensitivity control up to 3200 standard output sensitivity –

The K100D Super features an auto sensitivity control function, which automatically sets the optimum standard output sensitivity – upto 3200, which is the highest automatic setting in its class – based on such data as the subject's brightness level and the lens' focal length. Since this function allows the use of higher shutter speeds in poor lighting situations (such as indoor sports events and night scenes), it helps the photographer to effectively reduce camera shake and prevent blurred images. The user can preprogram a desired level, from ISO 200 to the super-high sensitivity of the ISO 3200.

4. Auto Picture Mode for effortless point-and-shoot SLR photography –

The Pentax-original Auto Picture mode automatically and instantly selects one of five picture modes (including Portrait, Landscape and Macro) to create the most appropriate visual effect for a given subject. Since the camera sets all primary parameters (including shutter speed, aperture, white balance, saturation, contrast and sharpness) the photographer can concentrate on picture composition and shutter opportunity.

5. 11-point wide-frame AF to capture off-center subjects in crisp focus –

The K100D Super's sophisticated SAFOX V111 autofocus system features 11 sensor points (with nine cross-type sensors in the middle) to automatically focus on the subject with utmost precision, even when it is positioned off center. The in-focus sensor point is automatically superimposed in red in the viewfinder for at-a-glance confirmation.

6. Large LCD monitor to facilitate image viewing and menu setting –

The K100D Super features a large 2.5 inch colour LCD monitor on its back panel. Its wide-view design allows the photographer to check the monitor image over 140 degrees vertically and horizontally, ensuring effortless image viewing even from a diagonal position. It provides 210,000 pixels for high-resolution image viewing, with a zoom display function that lets user magnify and image up to 12 times for easy confirmation of the focusing status and the subject's expressions. The large monitor size allows for large letters, digits and icons on the menu screens to facilitate menu confirmation and camera operations.

7. Bright, clear viewfinder –

The K100D Super features a lightweight penta-mirror viewfinder, which combines Pentax-original finder optics with a Natural-Bright-Matte II focusing screen to deliver a bright, clear subject image with a 0.85 times magnification and 96-percent field of view.

8. True-to-life, rich-gradation images assured by 6.1 effective megapixels –

The K100D Super features a large, high-performance 23.5mm X 15.7mm CCD as its image sensor, assuring the faithful reproduction of the desired photographic intention in the resulting images – from images with beautiful out-of-focus backgrounds to those with edge-to-edge sharpness. By combining 6.1 effective megapixels with a high-performance imaging engine and advanced image-processing technologies, the K100D is designed to produce beautiful , true-to-life images that are rich in gradation. What's more, it offers a choice of two finishing touches of "Natural" or "Bright" to create a distinctive atmosphere.

9. Compatibility with high-quality, high-capacity SDHC memory card –

The K100D Super accepts not only the conventional SD memory card as its storage media, but also the newly standardised SDHC card which allows the user to store a great number of large data files, such as RAW-format images.

10. Compatibility with SDM system for smoother, quieter autofocusing operation-

The K100D Super's camera body is compatible with a new SDM system, which assures smoother, quieter autofocusing operation using a built in supersonic motor. When the lens equipped with SDM system is mounted on the Pentax K100D Super camera body, the focus mode is automatically switched to SDM-assisted autofocusing.

11. Compact, lightweight body with optimum holding comfort –

The K100D Super has been designed to be compact and lightweight for easy carrying and enhanced manoeuvrability. It also offers an easy-to-hold grip to assure a stable shooting position.

12. Other features –

* 19 custom functions to personalise camera operations.
* Consecutive shooting of upto five frames at the speed of approximately 2.8 frames per second (at BEST image quality in JPEG format).
* Eight distinctive Scene modes to accommodate specific subjects/applications.
* Choice of two preview functions (digital/optical).
* Choice of 16-segment multi-pattern metering, center-weighted metering and spot metering to accommodate various photographic applications.
* Noise reduction mechanism to reduce digital noise during extended exposures.
* Dual power source (two CR-V3
lithium batteries, or four AA-size batteries)
* USB 2.0 (hi-speed) compatibility for speedy data transfer to PC.
* Five digital filters (black-an
d-white, sepia, slim, soft and brightness) for easy editing of recorded images.
* Pentax Photo Laboratory 3 RAW data and image processing software and Pentax Photo Browser 3 image browser software included on the accompanying CD-Rom.
* Compatibility with PictBridge, DPOF, Exif Print and PRINT Image Matching III formats.