New eBook Reader Features Ground-breaking Technology and Access to More Than 10,000 Titles
Press Release
The wish of avid readers and technology buffs is coming true today with the debut of the highly-anticipated Sony® Reader Portable Reader System.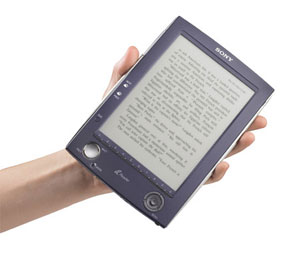 Available today direct at sonystyle.com for those who can't wait, the Reader will also be on retail shelves next month, just in time for holiday gift giving.
Sony today also announced the premiere of its CONNECT® eBook store. Agreements with a number of major publishing companies have made more than 10,000 eBook titles available to download to the Reader via the companion PC software.
And for a limited time, when a Reader is registered on the CONNECT site, people will receive a $50 credit towards the purchase of any available eBook titles which can now be reviewed online at ebooks.connect.com.
"Today, we're writing a new chapter in digital technology for reading," said Ron Hawkins, Sony Electronics' vice president of Portable Reader Systems marketing. "Easy and enjoyable to use, the Reader fulfills the promise of electronic reading in a way that no other device has been able to do. Not intended to replace traditional books, but to supplement them, the Sony Reader allows people to take a library of books and other reading material with them wherever they go."
Starting in October, book fans will find the Reader on shelves at SonyStyle stores located in high-end fashion malls throughout the country as well as at about 300 Borders® stores, including Borders airport locations. Borders, the exclusive bookstore retail partner for the Reader during the upcoming holiday season, will also sell pre-paid cards for eBook downloads on the CONNECT service.
Widespread Publisher Support
New publishers working with Sony to provide titles for Reader through the Sony Connect eBook store include: Hyperion, McGraw-Hill Professional, Cambridge University Press, Harlequin Enterprises Limited, National Geographic, Kensington Publishing and Regnery Publishing, among others. These firms join Penguin-Putnam, Simon and Schuster, Random House, HarperCollins, Hachette Book Group USA and Holtzbrinck Publishers along with TOKYOPOP, whose commitment to providing titles for Reader was announced earlier this year.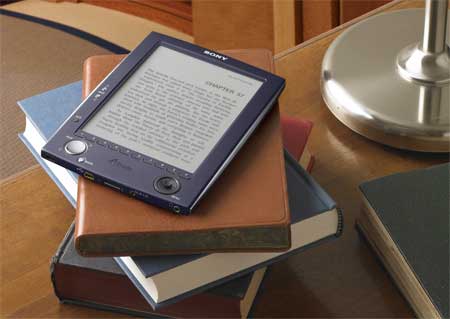 "Our collaboration with publishers will be a key factor in growing the popularity of eBooks," said Lee Shirani, vice president for eBooks at Sony CONNECT. "We look forward to working closely with publishers to offer consumers an increasing breadth and depth of title selections; great value; and ease of use in discovering, downloading and reading new titles on the Sony Reader."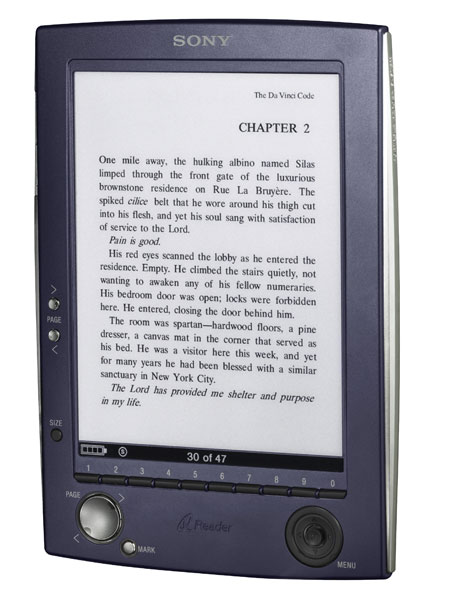 The Sony Reader couples an innovative electronic paper display with simple on-screen controls and stylish design. Travelers can carry as much as they want to read whether they are traveling across the globe or just around the corner. With battery life equivalent to roughly 7,500 continuous page turns, readers can potentially devour multiple bestsellers such as "Marley & Me" by John Grogan, "I Feel Bad About my Neck" by Nora Ephron, "Ricochet" by Sandra Brown and "War and Peace" without having to recharge.
The Reader's high-resolution electronic paper display delivers a realistic print look that rivals traditional paper and results in crisp text and graphics that are easy on the eyes and readable even in bright sunlight.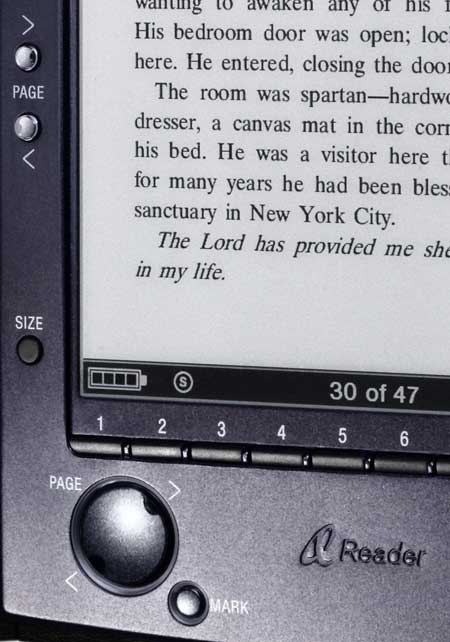 In addition to electronic books the Reader can also store and display personal documents in Adobe PDF format, RTF, text and JPEG photos. From the CONNECT eBook store, you can also download via your PC selected RSS feeds from blogs and news sites free-of-charge. Feeds from popular sites such as Salon, Slate, Huffington Post, engadget and Gizmodo among others are available right from the start.
Pricing and Availability
The Sony Reader will retail for about US$350 and comes complete with USB cable, a wall charger, the CONNECT Reader software and a protective soft cover. The Reader and optional accessories such as colorful leather covers and a charging cradle will be available through www.sonystyle.com, SonyStyle stores, Borders stores and authorized retailers nationwide. More information about Sony Reader is available at www.sony.com/reader.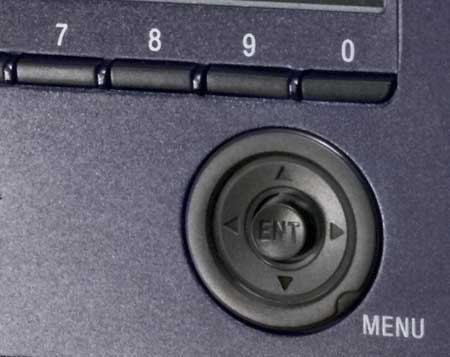 SONY AND NATIONAL ASSOCIATION FOR THE VISUALLY HANDICAPPED PROMOTE ELECTRONIC READING

Initiative Highlights Advantages of Electronic Books for the "Hard of Seeing"
Sony Electronics and the National Association for Visually Handicapped today announced they will work together to promote "electronic reading" as a means to improve the lives of individuals with visual impairments.
"NAVH has dedicated more than 50 years to ensuring that impaired vision does not result in impaired life," said Dr. Lorraine Marchi, founder and chief executive officer of the association. "Through the working relationship with Sony, NAVH hopes to expand opportunities to provide low vision aid tools to the Hard of Seeing(TM) and promote the idea that electronic reading will help enable them to lead independent and active lives."
As part of the initiative, Sony will donate a number of Reader e-Book devices to NAVH, and make more available at a discount to the organization for use by the visually impaired.
"Sony is proud to work in concert with NAVH," said Ron Hawkins, vice president of Portable Reader Systems at Sony Electronics. "We are glad to have been given the opportunity to join forces with NAVH to make available assistive technology from the most trusted name in electronics."
The Sony Reader couples an innovative electronic paper display with simple controls and a stylish design. Users with impaired or limited eyesight can select one of several text sizes. As a result, the Reader provides another option to large print books and other technologies. Sony will be working with NAVH to further explore this potential use of the Sony Reader as an assistive technology.
The Reader device's high-resolution, high contrast electronic paper display provides a reading experience very much akin to ink-on-paper, which many may find superior to reading on displays typical of computers and personal digital assistants. The result is crisp text and graphics that are highly readable, even in bright sunlight.
Roughly the size of a paperback novel, but thinner than most (about .5 inches thin), the device can store hundreds of books and other documents using a combination of internal flash memory and optional Memory Stick® or Secure Digital (SD) flash memory cards. In addition to electronic books, the Reader can also store and display personal documents in Adobe PDF format, RTF, text and JPEG photos.
From the CONNECT e-Book store, readers can also download sele
cted RSS feeds from blogs and news sites free of charge.
About NAVH
National Association
for Visually Handicapped (NAVH), a non-profit voluntary health agency, founded in 1954, is the only national health organization solely devoted to approximately 20,000,000 Americans who, although not totally blind, have an eye disease which could lead to a serious visual deficiency. NAVH has worked tirelessly on behalf of individuals with visual impairments to obtain large print material, secure necessary visual aids, and learn how best to lead productive lives. More information on the organization is available at www.navh.org.
For additional information about the Sony Reader, consumers can call (888) 315-SONY, or visit Sony's web site at: www.sony.com/reader.