A great book relevant to all traditional media artists and to digital artists who add traditional media to their digital works.
The Painter's Handbook, 2nd Edition
Revised and Expanded
By Mark David Gottsegen
Watson-Guptill Publications, 2006
ISBN 0-8230-3496-8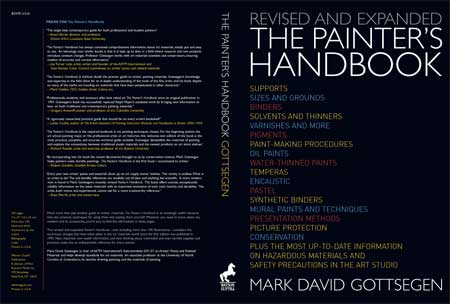 Written by a professor of art at the University of North Carolina and closely involved with the international standards committee that covers artist's paints and materials, you couldn't find a more well conceived, written and executed book that belongs on the bookshelf of every practicing artist, hobbyist or professional.
This book is the best contemporary reference book on artist's materials that I have seen and is also loaded with great, practical information that will benefit your day-to-day practice. The book is divided into three parts: The Basics, covering tools, supports, binders, solvents and pigments; Paint Making and Painting Methods, covering the making of paints and the differences between the main types; Picture Protection and Restoration, covering storage and shipping of artworks and conservation issues. Obviously in a book of some 330 pages it is not going to cover everything there is to know about all these topics. However, it does provide a great coverage given the manageable size of the book and more than enough information for most purposes. The only areas where one might resort to more specialized tomes is if diving into the more esoteric mediums, like encaustic, or in other areas where you are going beyond the needs of the average painter.
The book is a goldmine of accurate, current information presented in a mostly easy to read, enjoyable manner by an obvious expert. I doubt very much if even highly experienced and academically trained artists will not find new or more up to date information in this book. It ranges in scope from really helping you to understand bought commercial products to doing it yourself. The great information on sizes and grounds, for example, is worth the purchase price of the book by itself. And that represents only a tiny fraction of the content. Where appropriate, the author consolidates information into tables that make it very easy to make comparisons between approaches and what is required. The book is illustrated by drawings executed by the author and these are clear and appropriate. I am particularly impressed that the author has not limited himself to artist materials but also covers the key issues of storing and transporting art, areas that raise lots of questions and for which there is often poor advice provided, though not here. The section on conservation and restoration is also very useful, as which artist has not had a painting receive some damage due to time or transport that they have not needed to repair? Painting mediums covered include oils, acrylics, watercolors, temperas, encaustic, pastel and a variety of others.
Is the book perfect? No, but damn close to it. In the solvents, for example, I noted that the new citrus-based solvents are missed, despite these becoming quite popular with some artists, and I would have liked to see a fuller treatment of the 'water-soluble' oil paints, such as H2Oils by Talens. There is also a great section on photographing artwork, which includes digital capture, but I'd like to see some of the color accuracy issues of digital capture covered a bit more in the next revision. The only other possible failing of the book is that some artists might find certain sections a bit academic in approach.
So should you have this book on your bookshelf in your studio? That is a definite yes. All artists working in traditional media will get a lot from this book. Likewise those digital artists who also work with traditional art materials will benefit enormously from this book. The fact that this book does not cover digital materials is not a limitation, as it is a large enough topic to deserve a book of its own. Buy a copy as soon as it comes out in April 2006.