Swivel-mounted 10x zoom Nikon Coolpix S4 combines outstanding performance with ease of use
Press Release
Nikon Corporation is pleased to announce the introduction of the
COOLPIX S4, which along with the Coolpix S3 represents the latest in
the new Nikon "S series" of elegant, lightweight Coolpix cameras. A
stylish camera designed for active people, the Coolpix S4 packs a high
megapixel count, a large LCD monitor and 10x zoom capability into a
swiveling body that allows the lens and LCD sections to move
independently.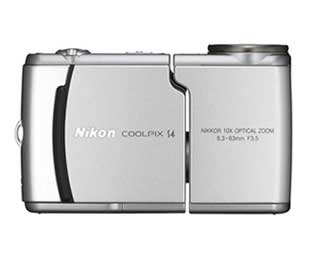 The Coolpix S4 features a 10x Zoom-Nikkor lens that delivers
outstanding 38-380mm performance (35mm equivalent), giving the user the
freedom to capture everything from extreme close-ups to architecture
and landscapes. It's also swivel-mounted, to enable easy shooting from
the waist or overhead, and allows better composition for
self-portraits. The Coolpix S4 delivers the imaging resolution of 6.0
effective megapixels, producing quality shots that remain impressive
even when considerably enlarged.
Despite offering such imaging performance, the Coolpix S4 is designed
to fit comfortably in the hand, with the swivelling section neatly
enclosing and protecting the powerful zoom lens and a zoom lever
located on the top of the body for easy operation. The Coolpix S4 also
features a newly-designed grip that contributes to a more confident
shooting feel and features a large, bright 2.5-inch LCD that makes it
easy to compose pictures and simple to play back the results on the
spot. The Coolpix S4 is remarkably slim for a 10x zoom model (with a
depth of 37mm) and weighs just 205g.
A range of unique Nikon capabilities give the user the power to improve recorded images in-camera with automated ease:
In Camera Help
Nikon Coolpix cameras have some of the most advanced features available
today. To ensure that all users get the full advantage of these
features Nikon have built in a "Help" facility to their Coolpix
cameras. Just press the Help button for a quick, straightforward
explanation of the menu features. Using a camera has never been easier.
Face Priority AF
Imagine a camera smart enough to find a face in a scene. Nikon's new
Face Priority AF can do just that when selected while using the
camera's Portrait Scene Mode.
Face-Priority AF uses technology to actually identify up to three faces
within a scene and then sets the camera's focus point accordingly. The
function even tracks the faces if they move about during composition.
An illuminated box shows the face the Coolpix is focusing on then turns
green to prompt the user to take the picture when focused. The result
is crisp, sharp portraits at the press of a single button. This
state-of-the-art technology makes taking beautiful snapshots as easy as
turning on the camera, framing the shot and pressing the shutter
release. It's really that simple.
In-Camera Red-Eye Fix(TM)
Other digital cameras usually use only a preflash system to try and
remove red eyes. Nikon's In-Camera Red-Eye Fix(TM) identifies eyes in an
image, detects the red colouring and removes it automatically for the
user. Nikon's red-eye solution is completely transparent to the
user and the result is simple – far less red-eye-effected photographs
straight from the camera.
D-Lighting
Tricky lighting situations or insufficient flash can sometimes lead to
dark-looking photographs. Nikon's new D-Lighting function is a tool to
compensate for these occurrences, dramatically improving the quality of
incorrectly exposed pictures. The D-Lighting function adds light and
detail to the dark areas of your pictures while leaving the
well-exposed areas as they are.
After applying D-Lighting, the camera saves a corrected copy to the
camera's internal or removable memory, leaving the original image
untouched. D-Lighting corrections can be made at any time.
An application of D-Lighting can literally turn a dark, throwaway shot into a memory worth framing.
The Coolpix S4 is equipped with a useful Blur Warning function too. It
alerts the user whenever a shot may have been compromised by camera
shake, providing a chance to take another image before leaving the
scene.
Taking fun and convenience further, the Coolpix S4 can be powered with
a pair of AA-size batteries, which are widely available around the
world in alkaline, lithium or other forms, making the camera well
suited to travel. There's also a selection of four Movie Modes, three
of which also record sound, while the fourth is a Time-lapse movie
function that allows the capture of action taking place over extended
periods.
A choice of 16 Scene Modes simplify shooting in a wide range of common
situations – allowing the user to select the icon that most closely
matches the desired shot, for which the Coolpix S4 selects the optimal
settings automatically. Four of these Scene Modes come with the added
advantage of Scene Assist, which helps the user to achieve better
composition. There's also the Voice Recording Mode, useful in meetings,
lectures and for captioning "on the fly". Up to 5 hours of sound can be
recorded when using a 256MB SD card.
Offering PictBridge compatibility, the Coolpix S4 makes printing easy,
too – allowing the camera to be directly connected to compatible
printers to produce photographs without the need for a computer. The
camera also offers USB connectivity that makes it swift and easy to
transfer data to computers and other peripherals. Furthermore, the
Coolpix S4 even comes complete with Nikon's versatile PictureProject
software – making it simple to edit, organize and share images with a
wide range of easy-to-use functions.
The Coolpix S4 will be available in Australia in October, with an RRP of $649.
Note: Specifications, design, product name, standard accessories, and release schedule may differ by country or area.
Nikon Digital Camera Coolpix S4 Specifications
Type: Compact digital camera
Effective pixels: 6.0 million
CCD 1/2.5-inch type (6.4 million total pixels)
Image modes: High (2816*), Normal (2816), Normal (2048), PC (1024), TV (640)
Lens: 10x Zoom-Nikkor; 6.3-63mm (35mm [135] format
equivalent to 38-380mm); f/3.5; 12 elements in 9 groups; Digital zoom:
up to 4x (35mm [135] format equivalent to approx. 1520mm)
Focus range: 30cm (12 in.) to infinity (∞), approx. 4cm (1.6 in.) to infinity (∞) in Macro mode
LCD monitor: 2.5-inch type, 110,000-dot TFT LCD monitor with brightness adjustment
Storage media: Internal memory: approx. 13.5MB, SD memory card
Shooting modes: Auto, Scene Assist (Portrait,
Landscape, Sports, Night Portrait), Scene (Party/Indoor, Beach/Snow,
Sunset, Dusk/Dawn, Night Landscape, Close up, Museum, Fireworks Show,
Copy, Back Light, Panorama Assist, Voice Recording), BS
S (Best Shot
Selector), AE-BSS, Colour Options, Blur Warning, Date Imprint,
Self-timer (10 sec.)
Movie: With sound: TV movie (640) at 15fps, Small
size (320) at 15fps, Smaller size (160) at 15fps; Without sound:
Time-lapse movie at 15fps
Capture modes: 1) Single, 2) Continuous (approx. 1.3fps), 3) Multi-shot 16 (16 frames 1/16 in size)
Number of frames
(w/ Internal memory): High (2816*) approx. 4, Normal (2816) approx. 9
Built-in flash: Range: 0.4-3.0m/ 1 ft. 4 in. – 10
ft.; Flash modes: Auto, Auto with Red-eye Reduction (In-Camera Red-Eye
Fix), Anytime Flash, Flash Cancel and Slow sync.
Interface: USB
Supported languages:
German/English/Spanish/French/Italian/Dutch/Swedish/Japanese/Simplified
Chinese/Traditional Chinese/Korean/Russian selectable in menu display
Power requirements: Two AA-size batteries
(Rechargeable Ni-MH Battery EN-MH1-B2 with Battery Charger MH-71, LR6
alkaline batteries, ZR6 oxy-nickel batteries and FR6/L91 lithium
batteries), AC Adapter EH-62B
Battery life (approx.): Approx. 290 shots with
EN-MH1-B2 Rechargeable Batteries, approx. 450 shots with lithium
batteries, approx 160 shots with LR6 (AA-size alkaline batteries)
(based on CIPA standard*)
Dimensions (W x H x D): Approx. 111.5 x 68.5 x 37mm (4.4 x 2.7 x 1.4 in.)
Weight: Approx. 205g (7.2 oz.) (without batteries and memory card)
Supplied accessories:** Neck strap, USB Cable UC-E6,
Audio Video Cable EG-CP14, Rechargeable Ni-MH Battery EN-MH1-B2,
Battery Charger MH-71, Lens cap, PictureProject CD-ROM
Optional accessories: AC Adapter EH-62B
*Industry standard for measuring life of camera batteries. Measured at
25°C (77°F); zoom adjusted with each shot, built-in flash fired with
every other shot, image mode set to Normal.
**Supplied accessories may differ by country or area.
PictureProject System Requirements
OS Macintosh: Mac® OS X version 10.1.5 or later
(version 10.2.8 or later required for Burn Disc option) / Windows:
Windows® XP Home Edition/Professional, Windows® 2000 Professional,
Windows® Me, Windows® 98SE pre-installed models
RAM Macintosh: 64MB or more recommended / Windows: 64MB or more recommended (128MB with muvee option)
Hard disk 60MB required for installation
Display 800 x 600 or more with 16-bit colour (full colour recommended)
Others CD-ROM drive required for installation
Only built-in USB ports are supported
Microsoft® and Windows® are either registered trademarks or trademarks
of Microsoft Corporation in the United States and/or other countries.
Macintosh® and QuickTime® are either registered trademarks or
trademarks of Apple Computer Inc. in the United States and/or other
countries. The FotoNation logo is a trademark. The SD logo is a
trademark. PictBridge is a trademark. D-Lighting technology is provided
by Apical Limited. Face-priority AF technology is provided by Identix®.
Products and brand names are trademarks or registered trademarks of
their respective companies.
Specifications and equipment are subject to change without any notice
or obligation on the part of the manufacturer. August 2005 ©2005 NIKON
CORPORATION