Think Tank Photo today released three new or completely upgraded rolling bags that provide more protection and security for transporting heavy and expensive photography gear.
Press Release
All three rollers feature advanced security features, such as front and back cable locks, a TSA lock, and the Security Plate "Lost and Found" service.
* Airport Airstream — This new, small roller complies with international air travel guidelines and accommodates up to a 400mm lens and multiple DSLRs and lenses. It features new and enhanced security features: TSA combination lock for the zipper sliders, a security cable for securing the roller to immovable objects, a front cable and lock for securing a laptop case to the bag, and the new Security Plate system for easy identification. With Think Tank Photo's new Security Plate photographers can register their roller's unique serial number at the company's Lost and Found site. If Think Tank Photo is informed that a lost or stolen bag has been located, it will contact registered users at no charge. The optional Airport Airstream Low Divider Set lets up to a 15″ laptop lay safely inside of the roller.
* Airport Security V2.0 — This large roller, which is renowned for its ability to hold a large amount of gear while complying with most USA domestic airline size requirements, has been completely upgraded. Like the Airport Airstream, it now comes with all of the company's enhanced security features. In addition, the optional Airport Security Low Divider Set is now available, which allows the Artificial Intelligence 15 & 17 laptop cases or the Cable Management 50 to lay inside of the roller.
* Airport International V2.0 –This new version of the popular mid-sized roller was recently named a 2008 winner of the "Hot One Award." In making this award the judges noted that the Airport International was "the first large rolling camera bag to meet all international carry-on size requirements." The roller, which now includes the new enhanced security features, was designed to accommodate a 300 2.8, 400 2.8, or 500 4 with lens hoods, multiple DSLR bodies and lenses, and other photography accessories.
The AI Low Divider Set is also available for safe laptop storage.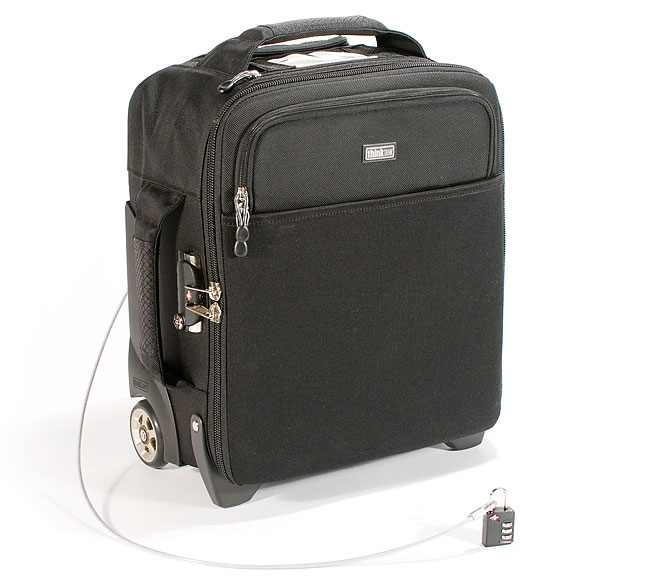 "With all of these rollers we've listened to photographer fears and designed in strong, customizable features that allow them to use this rolling camera bag not only as a means of transporting equipment from one site to the next, but for storing it securely during a shoot," said Doug Murdoch, Think Tank Photo's founder and lead designer. "As they are rollers, photographers can move quickly from one flight to the next and without the burden of carrying this weight on their shoulders. The goal is to minimize the wear and tear on their bodies and the fears associated with transporting expensive photographic equipment."
About Think Tank Photo
Headquartered in Santa Rosa, California, Think Tank Photo (www.thinktankphoto.com) is a group of designers and professional photographers focused on studying how photographers work and developing inventive new carrying solutions that meet their needs. They are dedicated to using only the highest quality materials and design principles, and employing materials that are environmentally benign.
Product Specifications
Airport Airstream
Internal Dimensions: 13.5″ W x 6.5-7.5″ D x 15.5″ H (34 x 16.5 x 39.5 cm)
External Dimensions: 14″ W x 8″ D x 17.5″ H (36 x 20.5 x 44.5 cm)
Weight: 9 – 10.5 lbs (weight varies depending on accessories)
Price: $289
Airport International V2.0
Internal Dimensions: 13″ W x 6.5″ – 7.5″ D x 18.5″ H (33 x 16.5-19 x 47 cm)
External Dimensions: 14″ W x 8″ D x 21″ H (36 x 20 x 53 cm)
Weight: 9.5-11.5 lbs; 4.3-5.2 kg (weight varies depending on accessories used)
Price: $329
Airport Security V2.0
Internal Dimensions: 13″ W x 7-8″ D x 21″ H (33 x 18-20 x 53 cm)
External Dimensions: 14″ W x 9″ D x 22″ H (35.5 x 23 x 56 cm)
Weight: 12 – 14 lbs/5.4 – 6.4 kgs (weight varies on accessories used)
Price: $369