Think Tank Photo announces the release of its new "Skin" series. These modular bags, which are designed to fit on Think Tank Photo belts or regular belts, are very thin and flexible and lay flat when empty, conforming to photographers' gear when full.
Press Release
Their ability to be compressed when empty frees up valuable space in photographers' cases, especially when in transit.
The bags feature a "Silencer Flap" that keeps hook and loop quiet in order to avoid undue attention, a front pocket that provides room for small accessories, and interior dividers for desired arrangement of gear. A seam-sealed rain cover is included. There are six Skin components.
* Skin 50 – Holds a 16-35mm f/2.8, or similarly sized zoom lens, with hood in position. * Skin 75 – Holds up to a 70-200mm f/2.8 lens with hood attached.
* Skin Double Wide – Holds up to two 70-200's with hoods reversed, multiple lenses, and more.
* Skin Chimp – Holds a pro-sized SLR camera body.
* Skin Strobe – Carries one SLR flash unit.
* Skin Belt – This unpadded waist belt can be used with all Skin and modular
system components. Skin components can rotate around the belt, or they can be locked in position. Rotating the components around the body increases photographers' ability to change lenses, accessories, and more.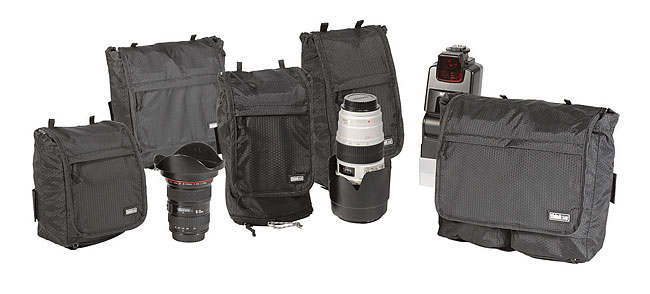 Consumers save 20% off individual item prices when they purchase the Skin Set. This 5-piece set includes the Skin 50, Skin 75 Pop Down, Skin Double Wide, Skin
Strobe, and the Skin Chimp.
"The Skin series was designed in direct response to feedback from professional photographers who have to lug their gear into the field," said Doug Murdoch, Think Tank Photo co-founder and lead designer. "For some of them, having bags that compress to preserve room and yet still allow quick access is more important than padding. With the Skin series they have the same 'Lock or Rotate' functionality as our breakthrough modular systems but without the extra protective padding."
About Think Tank Photo
Headquartered in Santa Rosa, California, Think Tank Photo is a group of designers and professional photographers focused on studying how photographers work and developing inventive new carrying solutions that meet their needs. They are dedicated to using only the highest quality materials and design principles, and employing materials that are environmentally benign.

Product Specifications
Skin 50
INTERNAL DIMENSIONS: 7″ H x 5.25″ W x 3.25″ D (17.8 x 13.3 x 8.3 cm)
WEIGHT: 5 oz / 142 grams
PRICE: $27.95
Skin 75 Drop Down
INTERNAL DIMENSIONS: 9.75″ H x 5.25″ W x 3.25″ H (24.8 x 13.3 x 8.3 cm)
WEIGHT: 7.75 oz / 220 grams
PRICE: $36.00
Skin Double Wide
INTERNAL DIMENSIONS: 10″ H x 10.25″ W x 3.75″ D (25.4 x 26 x 9.5 cm)
Each Pouch: 10″ H x 5.25″ W x 3.75″ D (25.4 x 13.3 x 9.5 cm)
WEIGHT: 10.5 oz / 299 grams
PRICE: $44.95
Skin Strobe
INTERNAL DIMENSIONS: 9″ H x 4″ W x 2.75″ D (22.9 x 10.2 x 7 cm)
WEIGHT: 4.25 oz / 120 grams
PRICE: $35.00
Skin Chimp Cage
INTERNAL DIMENSIONS: 8″ H x 7″ W x 3.25″ D (20.3 x 17.8 x 8.3 cm)
WEIGHT: 9.25 oz / 262 grams
PRICE: $39.95
Skin Set
$149.00