We test the E-510 for infrared photography performance with the Hoya R72 filter.
The E-510 is a handy and compact camera. Also common to all the Olympus dSLRs we have tried, it actually has a Live View that works reasonably well in infrared (you just have to put it in Live View Boost mode from the menu).
Full sun exposure with the Hoya R72 filter lies at 100ISO, f3.5 and between 8 seconds and 2 seconds depending on which color channel you are aiming the exposure at.
The following histograms show the channel results at differing full sun exposures (100ISO f3.5):
8 seconds



15 seconds



30 seconds


Now with appropriate RAW processing you can pull back much of the over exposure.
In extended testing I found the noise to be very well controlled at all ISO settings, though of course it is lowest at 100ISO.
The images below are a 100% section:
100ISO



red



green



blue



200ISO



400ISO



red



green



blue



800ISO



1600ISO



red



green



blue

You can treat the images in various ways with this camera, depending on the exact exposure you give. If you are careful to not over expose the red channel, then if you do levels on each individual channel the result can be a lovely false color image. You can also go to monochrome using one or more of the channels, again depending on the exposure.
Red only



Green only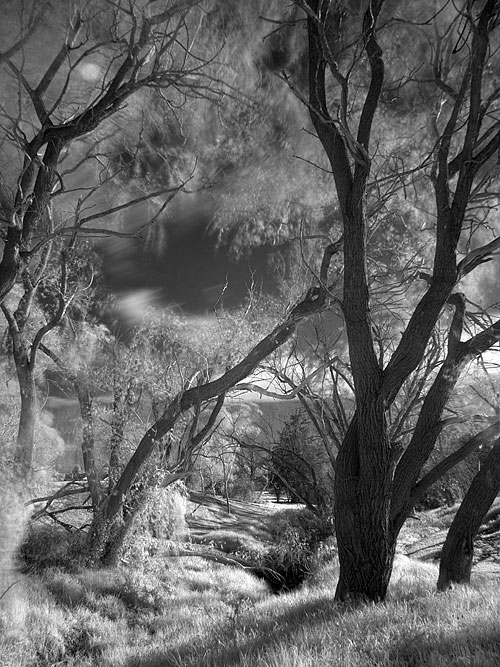 Blue only

The two images below show the center of the image after processing from a single channel:

Green Channel

Blue channel
Provided you set Live View Boost from the camera menu you will, with the R72 filter attached, get a view that is adequate for framing. It is monochrome (or at least so close that it looks that way in the field), but it is bright enough that, provided you adequately shade the LCD from the light, you can setup your shots properly. This is a great gain for IR photography with an unconverted camera and Olympus is the only one whose Live View mode can do this.
The E-510 makes an excellent IR camera unconverted. Exposures can be fairly shot, noise is well controlled and the results can be great. Plus you have a Live View that works well enough in infrared for framing.
A RAW IR image is available for you to download from our IR sample images page.